MRC Runs The Larry Elder Defense Committee
Topic: Media Research Center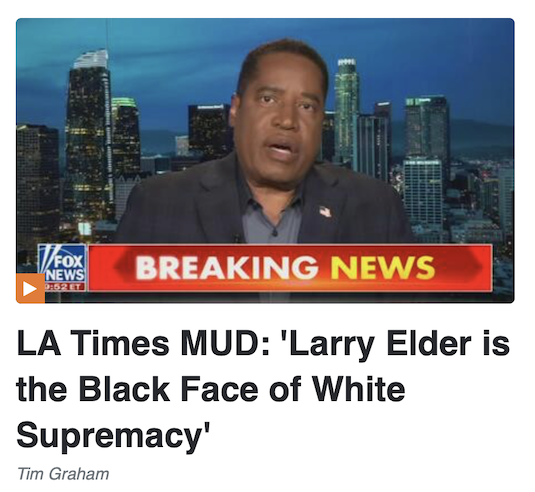 The Media Research Center is undoubtedly happy Larry Elder came along to be the leading Republican canddiate in the California governor recall election. Otherwise, it would have to continue to fight its transphobic urges as it played defense for Caitlyn Jenner.
The MRC began by touting Elder's chances against the incumbent facing recall, Democrat Gavin Newsom. On July 28, Scott Whitlock gushed that Fox News was touting Elder was emerging as the frontrunniner ina "perfect storm" against Newsom (and that non-right-wing media outlets weren't reporting on an state election that was a month and a half away). On Aug. 12, Kyle Drennen complained that non-right-wing outets weren't repoirting that Newsom "was beginning to crack under the pressure of an upcoming recall election that looks increasingly likely he may lose." Kristine Marsh wrote on Aug. 16 that CNN "tried to help out the embattled Democrat Governor Newsom with a puff piece that completely ignored his critics and glossed over his failures" while it "actually helped Newsom attack his conservative competitor, radio host Larry Elder, as the next Trump." Marsh didn't dispute that characterization.
But as Elder started drawing more attention -- much of it negative -- the MRC got upset. On Aug. 18, designated New York Times-hater Clay Waters whined that the paper was "smearing the idea of the recall and Newsom's leading conservative opponent, black conservative talk show host Larry Elder" and that it was "calling Elder a liar for accurately stating that no one knows how much human action contributes to rising global temperatures." Brad Wilmouth then came to Elder's defense over a sexist view he espoused that CNN correspondent Kyung Lah highlighted:
After showing a couple of clips of Elder -- one complaining that welfare has hurt women, and the other complaining about the many accusations of racism and sexism made by the left -- Lah read from a piece published by Elder in May 2000 in which he asserted that women are less informed about political issues than men. The CNN correspondent recalled: "In May 2000, Elder penned this editorial, writing, 'Women know less than men about political issues, economics and current events,' adding, 'The less one knows, the easier the manipulation.'"

But Lah omitted Elder's few sentences which demonstrated that his claim wasn't just an unsubstantiated opinion, but that it had been verified by a recent University of Pennsylvania study involving left-leaning researcher Kathleen Hall Jamieson.
As criticism of Elder mounted, the MRC made sure to emphasize the more strident ones, thus suggesting that all criticism of Elder was outlandish:
Tim Graham complained of the "mudslinging tactics" of a Los Angeles Times columnist Erika D. Smith that called Elder "the Black face of white supremacy." Graham he huffed that "No 'fact checker' will check any of this lying garbage," but he identified no "lies" that needed to be fact-checked.
Marsh claimed that an MSNBC guest and newspaper columnist painted Elder "as an apostle of white nationalism who would "make life harder" for black and Latino Americans," going on to smear the commentator as someone Divorced from any sort of rational analysis" and "believes voters can't think for themselves," and adding that she shows "just how far removed liberal journalists are from the average American" (though she's a columnist, not a journalist).
But even the MRC couldn't ignore accusations about Elder's history with women -- so it was time to downplay those claims. Waters was first up complaining that an ex-girlfriend's claim that Elder showed a gun to her while high on marijuana was merely "personal attacks and speculation in a way that under-substantiated allegations made against Democrats never get (see: Tara Reade)." Does this mean we can say the MRC was indulging in "personal attacks and speculation" when it uncritically repeated and breathlessly touted Reade's accusations?
Graham similarly played Reade whataboutism -- and 30-year-old Anita Hill whataboutism -- in an Aug. 26 post:
NPR's public editor Kelly McBride confessed in 2020 that NPR was slow to address Tara Reade's sexual assault allegations against Joe Biden. But NPR wasn't slow at all to highlight an ex-fiancee's allegation that black conservative California gubernatorial candidate Larry Elder waved a gun at her while high on marijuana during a breakup in 2015. It dominated their segment on the California recall on Wednesday's Morning Edition.

It's easy to recall that NPR jumped first on the unproven allegations from Anita Hill that Clarence Thomas sexually harassed her. Their California expert, Scott Shafer from San Francisco affiliate KQED, implied there was probably more dirt on Elder they hadn't dug up yet.
Graham added: "The ex-fiancee is Alexandra Datig, who has endorsed Republican Kevin Faulconer in the recall election. Politico's Carla Marinucci first reported Datig's claims on August 19. What about the timing? California expected counties to begin sending mail-in ballots on August 16." Funny, we don't recall Graham or anyone else at the MRC questioning Reade's motivations or her timing.
Marsh returned on Aug, 27 to mock Smith for highlighting the hate mail she received about her "Black face of white supremacy." Jeffrey Lord followed with an Aug. 28 column attacking Smith and another Los Angeles Times columnist, and he too played Anita Hill whataboutism -- while being completely silent about the accusations Elder's ex-girlfriend made.
Posted by Terry K. at 10:05 PM EDT
Updated: Tuesday, October 5, 2021 10:29 PM EDT