CNS Repeats Harassment Claims Against Cuomo -- But Belittled Or Hid Those Made Against Trump
Topic: CNSNews.com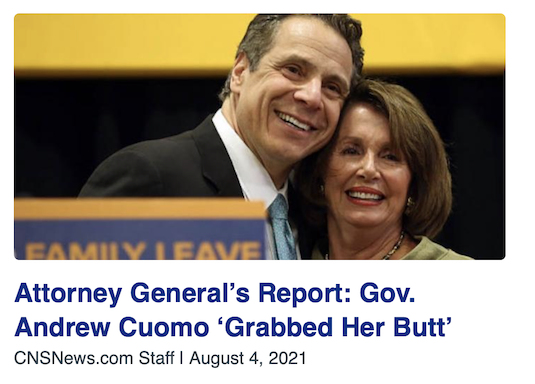 CNSNews.com dedicated three articles to specific allegations made by women accusing former New York Gov. Andrew Cuomo of sexual harassment, all of which were anonymously written:
The first repeated a claim that "Cuomo 'grabbed the butt' of a state employee."
The second repeated a claim that "Cuomo 'grabbed' the breast of one of his female assistants.
The third, published Aug. 9 but mysteriously deleted without explanation sometime later -- CNS seems to have forgotten that the internet is forever -- recounted how former Cuomo executive assistant Brittany Commisso recounted "two instances when she alleges Cuomo sexually harassed her at the New York state governor's mansion."
By contrast, when Stormy Daniels revealed that Donald Trump paid her hush money to keep quiet about their extramarital affair, CNS at first treated her as She Who Must Not Be Named, then moved to belittling her for revealing the affair and hush money, and finally decided to give Trump a pass because "Trump's womanizing hardly comes as a shock to the American people" and merely talking about it advances "the politics of personal destruction."
Around the same time, an Aug. 5 article by Susan Jones stated:
Given the mostly softball questions normally tossed to White House Press Secretary Jen Psaki, this one was surprising:

"A lot of men in politics have been accused of sexual harassment, a reporter told Psaki on Wednesday:

"President Biden was accused by female Secret Service agents of skinny dipping in front of them, offending them, according to former Washington Post reporter Ronald Kessler, who's an author as well. His former Senate aide Tara Reade accused him of sexual assault. The Washington Post and the New York Times published multiple accounts of women who objected to the way President Biden touched them.

"Should there be an independent investigation of allegations into the President as there was into Governor Cuomo?"
Jones complained that "Psaki gave a non-response response."
Actually the question was not surprising at all, given that the questioner was Steven Nelson of the New York Post, a notoriously right-wing, anti-Biden newspaper. And we recall how much CNS heavily hyped Reade's accusations, parroting its Media Research Center parent -- while it effectively censored news of E. Jean Carroll's accusation that Trump sexually assaulted her.
In other words: Only women who make sexually related accusations against a liberal are considered news at CNS. If a woman makes similar accusations against a consevative, she is belittled and denigrated, at least when she's not being completely ignored.
Posted by Terry K. at 1:01 AM EDT
Updated: Tuesday, September 14, 2021 12:56 PM EDT