MRC Rushes To Defend DeSantis Over COVID -- Again
Topic: Media Research Center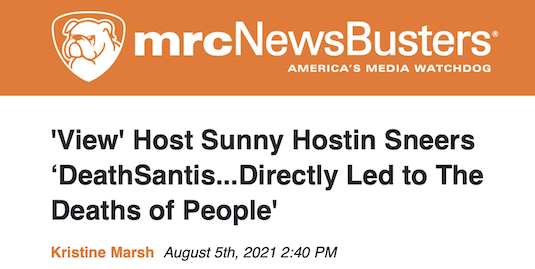 Last year, the Media Research Center fawned all over Republican Florida Gov. Ron DeSantis for his hands-off approach to the coronavirus epidemic in his state -- then had to switch to defense mode when the state became an epicenter of COVID infection. Well, Florida has become an epicenter of the Delta variant this summer, and the MRC is back in defense mode.
Alex Christy complained on July 17 that CNN's Chris Cuomo spread "disinformation" by "insinuating" that DeSantis isn't encouraging people to get vaccinated, then made excuses for DeSantis' abhorrent behavior:
DeSantis has been vocal in his opposition to vaccine passports, mandates, and is selling anti-Fauci merchandise, but has never said "don't get vaccinated." The anti-Fauci fundraising is about masks and lockdowns, not vaccines. If Cuomo can't understand the difference between being against mandates and being against vaccines, that's on him, not DeSantis.
Christy also falsely identified guest Leana Wen as "Planned Parenthood president" -- she hasn't worked there for two years, and even then was the group's president for only nine months. (the MRC is weirdly obsessed with tagging Wen as tied to Planned Parenthood even though it's irrelevant to her current TV appearances as a health expert.) Christy then justified people who refuse to get the vaccine by blaming others, not them, for their own behavior:
The people who remain unvaccinated need to be convinced and telling them that nothing will change regardless will just confirm their suspicions that restrictions will last forever, or worse, that the vaccines don't work. That is far more damaging to the vaccination campaign than any anti-Fauci beer koozie.
Christy returned on July 31 to portray any criticism of DeSantis' handling on COVID as an effort to derail his potential 2024 presidential camapign:
It is obvious that the media view Florida Governor Ron DeSantis as a 2024 threat; hence every discussion about COVID and the Delta variant must include an implication that Florida is a uniquely dire situation.

On his Friday show, CNN's Chris Cuomo blamed Florida for the CDC's revised mask guidelines, saying the country was being "held hostage" because of DeSantis' anti-science governance.
Mark Finkelstein peddled the same angle in an Aug. 2 post:
As the number of COVID cases rises in Florida, opportunistic liberal talk shows are taking more pot shots at Gov. Ron DeSantis, a potential 2024 presidential candidate. It's never too early to bury him.

Morning Joe regular Dave Aronberg, the Democrat Palm Beach County State Attorney, twice claimed today that Florida Governor Ron DeSantis's stance on Covid constitutes—of all things—"socialism."

Mika Brzezinski melodramatically teed him up by suggesting you'd oppose DeSantis, too, if "you're actually getting correct information on the science, and not a bunch of stupid, crazy, Trump-driven conspiracy theories that could kill you."
Clay Waters complained that New York Times columnist Paul Krugman "pointed out that over 10,000 Floridians are currently hospitalized with Covid, then blamed DeSantis," adding that "Krugman was obliged to note, but strenuously attempted to discount, the inconvenient fact that Florida is actually doing just fine with vaccinations." Waters then huffed:
Speaking of life, DeSantis kept Florida schools open, as the luckless children under blue state regimes suffered developmental setbacks and loneliness. How rejecting masks for the upcoming school year could possibly impact case levels in the present day is a baffler, but intellectual consistency has never been Krugman's strong suit.
After MSNBC's Joe Scarborough pointed out that DeSantis' pandering to his right-wing supporters on COVID made him sound a bit like "Simpsons" character Cletus the Slack-Jawed Yokel, Finkelstein returned to sneer: "Was Joe Scarborough ever a good ol' Southern boy, as he still likes to portray himself? In any case, that persona has definitively disappeared. On today's Morning Joe, Scarborough exposed himself as the worst kind of condescending Upper West Side snob."
As the COVID death toll mounted in Florida, Kristine Marsh helped DeSantis distract and play whataboutism while decrying a new nickname for the guy:
Florida Governor Ron DeSantis has increasingly become one of the left's favorite targets. So it should come as no surprise that he drew the ire of the media on Thursday after he fired back at President Biden for lecturing him on his coronavirus leadership.

After Biden publicly rebuked the governor for banning mask mandates in Florida schools, DeSantis slammed the president for allowing COVID positive illegal immigrants into the country and flying them to states like Florida. Both Morning Joe host Joe Scarborough and The View's Sunny Hostin went after DeSantis this morning in a pathetic effort to defend Biden.

On The View, Hostin maliciously smeared the Governor as "directly" responsible for people dying from COVID. She touted debunked allegations that he "hid" the death toll in his state, calling him "DeathSantis:"
Christy then served up more defense for DeSantis on Aug. 5 by insisting that he's not terrible on COVID, he's merely average:
The media's obsession with Florida Gov. Ron DeSantis continued on Tuesday as Katy Tur Reports guest host Geoff Bennett let gubernatorial candidate Nikki Fried spread multiple untruths about DeSantis' pandemic response. That Fried was allowed to spread such claims was not surprising as Bennett's questioning relied on similarly false premises.

Ironically, before the segment even started, Bennett showed why the segment should never even happened as he went to a commercial teasing, "Still ahead, summer surge. At least 42 states are seeing COVID infection rates spike over 100 percent in the last two, we'll go live to the new pandemic epicenter which is Florida."

If 42 states are seeing over 100% increases, then it can not simply be boiled down to politics or the governor's policies, but that didn't stop Bennett from trying. Leading Fried with a false narrative he asked, "What's your take-away about what's to come?...Why are do you think so many Floridians still aren't vaccinated?"

Florida's vaccination rate is essentially the same as the national average. As of August 3, 58.2% of Floridians have received at least one shot compared to 57.9% of all Americans.
Christy is rather desperately understating the situation in Florida. As week after his post, Florida alone accounted for nearly 18 percent of all new COVID cases in the U.S. And if the vaccination rate of Florida and Texas had been higher, 70,000 hospitalizations and 4,700 deaths could have been prevented through July.
Posted by Terry K. at 10:39 PM EDT