MRC Censors News That Whistleblower It Attacked Got A Government Settlement
Topic: Media Research Center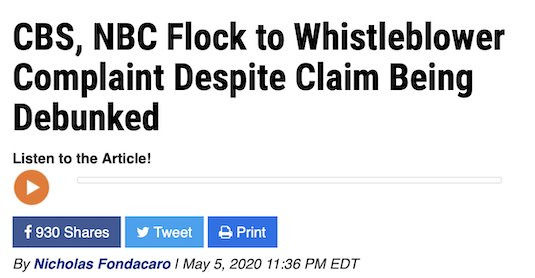 At the start of the coronavirus pandemic past year, the Media Research Center was attacking anyone who dared to question how President Trump was handling the crisis or pointed out he was handling it poorly. ONe of those targets was Rick Bright, a federal employee who was fired as head of a HHS agency because he didn't promote Trump's pet drug hydroxychloroquine. The MRC insisted that Bright was "discredited' because a Politico article attempted to contradict his claims -- but it did so by citing only anonymous Trump officials, and we know how the MRC feels about anonymous sources.
Well, it tiurs out that Bright may have been more correct than the MRC will ever admit. Last month, Bright settled with HHS in "a financial agreement that compensated him for losses including salary, benefits and pension contributions after he was abruptly removed in April 2020 from his role as the head of the Biomedical Advanced Research and Development Authority." Bright even got HHS to say nice things about him:
In a statement, an HHS spokesman confirmed the settlement on the whistleblower claim.

"The Agency would like to thank Dr. Bright for his dedicated public service and for the contributions he made to addressing the COVID-19 pandemic while he served as BARDA Director. We wish him well in his new endeavors."
Bright's attorney added that Bright is working with the government on a second complaint he made to investigate "the prioritization of the Trump political agenda over the health of the American public constituting a grave danger to the public health and safety, and the circumvention of established protocol in order to award lucrative contracts without scientific merit."
Needless to say, the MRC has completely censored this story, and its certainly not going to update any of its previous attacks on Bright to reflect that he was right enough to get a nice settlement from the government.
Posted by Terry K. at 7:11 PM EDT