WND Plays Victim, Complains YouTube Demonitized Its Channel
Topic: WorldNetDaily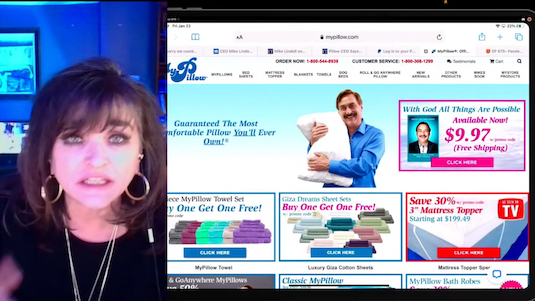 WorldNetDaily managing editor David Kupelian quickly went conspiratorial in a Feb. 1 email to readers:
Big Tech is attacking WND again. Here's their latest attempt to put one of the Internet's oldest and most storied news organizations out of business:

Last Friday, outraged by the libeling and cancelling of prominent Trump supporter Mike Lindell and his company, My Pillow, WND's Elizabeth Farah posted a short video in support of Mike. That video resulted in the demonetization of the entire WND YouTube account.

Although Lindell has now been permanently banned by Twitter, Farah focused her video on a libelous story appearing in the Daily Mail, which stated as fact (citing unnamed "friends") that Lindell had a torrid months-long affair with actress Jane Krakowski. Only problem was, both Lindell and Krakowski utterly deny the affair – or even knowing each other – and Lindell has already filed a defamation lawsuit against the Daily Mail.

What was WND's crime? The usual: Telling the truth – and defending a staunch Trump supporter like "the My Pillow guy."
Well, we watched that video -- a 13-minute "Farah on Fire" piece that was posted Jan. 22 -- and it is likely that Farah's defense of Lindell over the Krakowski rumors were not the issue (Lindell has since sued the Daily Mail over the story). We do, however, think it's entertaining that Farah and Kupelian are getting all worked up about this -- at one point, Farah declared her opposition to "libeling innocent individuals" -- considering that WND arguably spent eight years libeling Barack Obama by promoting false claims that he wasn't eligible to serve as president and actually did libel a Tennessee car dealer by claiming he was involved in drug dealing (that lawsuit got settled out of court for an undisclosed sum before it went to trial). And it's certainly not because Farah's video was wildly popular -- at this writing, it had only 342 views.
Nope, the problematic part starts when Farah likens Lindell to the Founding Fathers for putting his livelihood on the line to spout election fraud conspiracy theories, then played a segment of an interview Lindell did on Steve Bannon's podcast. A couple weeks earlier, YouTube had banned Bannon's channel because it had promoted false claims about election fraud.
WND could simply edit the Bannon segment out of Farah's video and probably get re-monetized. But Kupelian won't tell you that -- he's much happier playing the victim. And Kupelian was on a roll and in full conspiracy mode:
Let's take two steps back and look at the big picture: As we have been urgently warning about for over four years, the lords of the Internet – Google, YouTube, Facebook, Twitter and others – are finally making their big move for all-out, undisguised, totalitarian control of what you are allowed to read, watch, hear – and therefore think.

For Twitter to permanently ban the president of the United States, Donald J. Trump – who just last month a Gallup survey of Americans revealed to be the "most admired man in the world" and who had been nominated for multiple Nobel Peace Prizes – makes it pretty clear that Big Tech's mask is off. Completely off.

No more congressional hearings where Big Tech oligarchs make excuses or blame "glitches" or mid-level employees for banning prominent conservatives, Christians and pro-lifers. Those days are over. Ever since the Jan. 6 siege of the U.S. Capitol building – which the Left has equated with both 9-11 and Pearl Harbor – social media giants have abandoned their former pretense and are now wildly purging conservatives from the internet, as though we didn't exist.

And then – no sooner did prominent conservatives announce they were quitting Twitter in favor of free-speech social media alternative Parler, than the Tech Giants ganged up to kill their competitor in the cradle.

[...]

Friends, we are fighters here at WND, and we still intend – as long as God allows us to exist as a news organization – to shout the truth from the rooftops and publish it from sea to shining sea! WND fully intends to continue to sound the alarm and expose the totalitarian left's efforts to completely take over America. That means everything from the Democrats' election-time specialty of voter fraud (and yes, despite what they tell you, the 2020 election was RIGGED), to the leftwing indoctrination of young voters at America's progressive brainwashing centers called colleges, to the Democratic Party's passionate love affair with abortion, to exposing all the outrageous lies of the corrupt "mainstream news media."
Needless to say, Kupelian concluded his email with a request for money for the nonprofit WND News Center.
Posted by Terry K. at 12:43 AM EST