CNS Commentary Editor Rants Against Grad School
Topic: CNSNews.com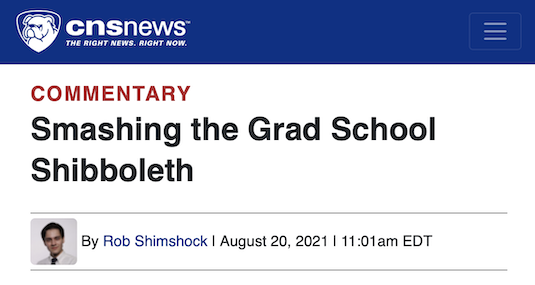 CNSNews.com commentary editor Rob Shimshock's Aug. 20 column is headlined "Smashing the Grad School Shibboleth," and in the process, he perpetuates a shibboleth of his own:
If education is preparation to make it in the world, why is it that in 1940, almost 95 percent of Americans were prepared by age 18, whereas in 2017, only 66 percent could say the same, with a third of the country choosing to spend at least four extra years of valuable youth having their wallets plundered to the tune of tens or hundreds of thousands of dollars by a viciously partisan apparatus which incubates in impressionable minds far-left mantras that then spread far and wide to Congress, Hollywood, the media, Silicon Valley, etc.?

"Modern professions require that much more schooling" is an arrogant answer. Alexander Hamilton served as a brilliant lawyer despite having never stepped foot in a law school. Harvard started the world's first Master of Business Administration (MBA) program in 1908; are we to believe that multiple millennias' worth of 22 to 24-year-old entrepreneurs, merchants, and the like missed out on some special "secret sauce" that could only be imparted by someone with a "professor" before his name?

It's time to face the facts. Academia is postponing the age by which Americans are deemed ready to begin giving back to the world and accumulate wealth, all the while saddling them with the huge financial negative of student debt and perhaps even larger moral negative of anti-Christian and anti-white bias.

[...]

Holding both a bachelor's degree and graduate degree will become the norm and, soon enough, these two will be accompanied by yet another special hundred-thousand-dollar piece of paper, this one requiring you to withstand left-wing agitprop until age 26 or later.

There will come a day when schools, banks, media outlets, and other parties with a vested interest in seeing debt soar will hype PhDs or Super Graduate Degrees equally as pricey, time-consuming, and rife with indoctrination as the new baseline gateway to the upper echelons of American society.
Shimshock may have a point on the cost of grad school, but the idea that colleges exist only to indoctrinate students to be "far-left," anti-Christian and anti-white" is a long-held right-wing talking point that has no real basis in reality. Actual educators know that it's difficult to get a student's mind to open up at all.
As far as indoctrination goes, Shimshock appears to be both victim and perpetrator. It's clear that he was fed that right-wing nonsense about colleges churning out brainwashed liberals ... even as he touts his bachelor's degree from the University of Virginia in his bio. But the CNS commentary section he manages carries only right-wing and libertarian writers -- there nary a liberal columnist in sight. Isn't he engaging in the kind of indoctrination he purports to despise? What is Shimshock so afraid of that he won't let a liberal opinion sully his commentary section?
Seems like Shimshock may need to head back to college ... to take a remedial course or two in journalistic fairness and balance.
Posted by Terry K. at 12:54 PM EDT