Newsmax Interview With Nunes Omits Mention Of Previous Failed Lawsuits
Topic: Newsmax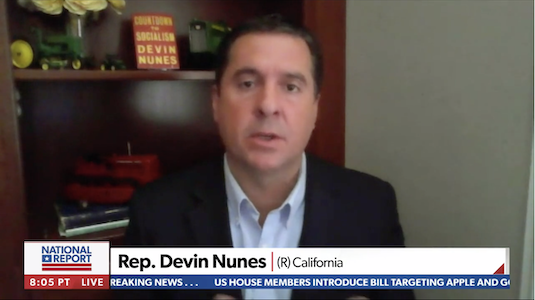 A Newsmax interview with Rep. Devin Nunes, as summarized in an Aug. 13 article by Sandy Fitzgerald, touts the one defamation lawsuit he filed that hasn't been dismissed outright:
Rep. Devin Nunes, who is suing both MSNBC and The Washington Post over reports they'd made tying him to actions with Russia, said Friday on Newsmax that the legal actions are being taken to "hold the fake news accountable."

The California Republican told Newsmax's "National Report" that he scored a rare win this week, when a Washington, D.C., judge ruled that his libel lawsuit against The Washington Post could proceed.

In a Nov. 9, 2020 story from the Post about Nunes' one-time chief of staff Michael Ellis, the paper alleged that Ellis, who became general counsel of the National Security Agency, had helped the congressman obtain information from the White House on intelligence files to back his claims that the Obama administration had spied on Trump Tower, reports Reason.com.

"That was never true that I had, you know, James Bond-style jumped, rolled out of cars, jumped over the fence at the White House at midnight," said Nunes. "They knew from prior reporting that that was totally false ... they acted with actual malice. They've been doing it for years. Thankfully a judge saw."
But the Post never reported Nunes did "James Bond-style" stuff. The article originally stated that Nunes went to the White House in a "midnight run" to find evidence that the Obama administration was spying on Trump Tower, which the Post later corrected to say happened during the day, and misattributed a statement about spying to Nunes instead of Donald Trump. Nunes didn't tell Newsmax that part of his lawsuit against the Post was dismissed.
Unsurprisingly, neither Newsmax nor Nunes made no mention of all the other Nunes lawsuits against media outlets that have ended in swift dismissal. For instance, a different suit Nunes filed against the Post last year was dismissed. Most infamously, Nunes tried to sue Twitter over a couple of parody accounts -- one stating itself to be "Devin Nunes' Cow" -- mocking over his dubious claims of being a farmer, among other tihngs, and failed. Those cases have since been completely dismissed as well.
Nunes is clearly unable to handle any sort of public criticism, so he's trying to strip his critics of the right to criticise him by forcing them to spend money defending themselves in court. Newsmax doesn't want to report any of that.
Posted by Terry K. at 9:04 PM EDT