MRC: Robin Committing 'Sexual Deviancy' By Not Being Heterosexual
Topic: Media Research Center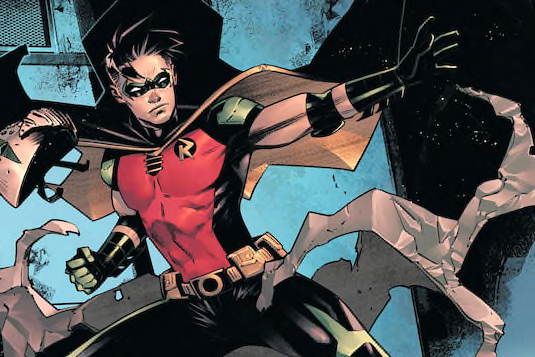 WorldNetDaily's Michael Brown isn't the only ConWeb denzien to freak out over the idea that Batman's sidekick Robin might not be heterosexual. Over at the Media Research Center -- which already has a problem with DC Comics characters failing to be heteronormative -- Gabriel Hays whined about in in an Aug. 12 post:
Holy shoehorned sexual deviancy, Batman! The Dark Knight's greatest sidekick, the Boy Wonder himself, Robin has finally come out of the closet. What, really? Yep, in one of the latest Batman comics from DC, Robin is interested in men.

Oh, thank goodness for that.

According to nerd culture outlet Polygon, Tim Drake, AKA Robin, came out in the latest volume of DC's new anthology series, Batman: Urban Legends. This unique series takes detours from Batman's main story and focuses each volume on a specific character in the DC Batman universe. This latest volume apparently includes a story beat on the sex life of Bruce Wayne's most trusted crime-fighting friend.

[...]

Imagine how exciting the next installment concerning Robin's sex life will be. Does the date go well? Does Robin get cold feet? Is Bernard actually the Joker hiding an evil plot behind an innocuous dinner date? Oh yeah, the suspense is just killing us.

Joking aside. It's just the latest pop culture staple pandering to the ever-present, ever-complaining LGBTQ crowd. Maybe DC can stay relevant for a few more years, until the woke crowd demands that the Dark Knight himself becomes gay or some other sort of non-hetero sexuality.

p>Though, for real old school Batman fans, there's no need to get too angry about Robin being gay, bi or pansexual. At least this new queer Robin is not the Robin introduced in the 1940s. That Robin was Dick Grayson. Nor was it the second Robin, Jason Todd. Tim Drake is the third Robin iteration who was introduced in 1989. There's some consolation ... maybe?
If Hays thinks DC is "pandering" to a certain crowd for this character interpretation, Hays' homophobic meltdown -- decdlalring that if you're not a solid masculine heterosexual, you're committing "deviancy" -- is pandering too. It's also clear that Robin doesn't fit into Hays' imagined effeminite stereotypes of LGBT people. We know who we're rooting for in a fight between Hays and Robin.
Posted by Terry K. at 11:03 AM EDT
Updated: Saturday, September 18, 2021 11:04 AM EDT