CNS Plays Gotcha With Kerry (Briefly) Not Wearing A Mask On A Plane
Topic: CNSNews.com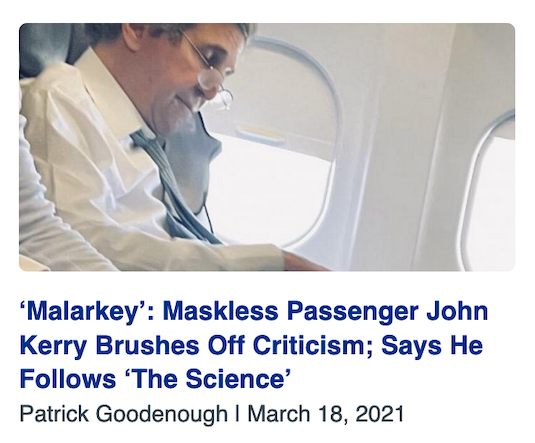 CNSNews.com likes to play gotcha with Democratic politicians (but never Republican ones). This happened again in a March 18 article by Patrick Goodenough:
President Biden's special climate envoy John Kerry dismissed as "malarkey" a social media kerfuffle sparked by a photo showing him not wearing a mask while on an American Airlines domestic flight on Wednesday.

"Feels like there's some St. Patrick's day 'malarkey' afoot on Twitter," Kerry tweeted on Wednesday night. "Let's be clear: If I dropped my mask to one ear on a flight, it was momentary. I wear my mask because it saves lives and stops the spread. It's what the science tells us to do."
Goodenough then followed with five paragraphs of criticism of Kerry, plus two more paragraphs consisting of a statement from "the passenger who purportedly took the photo" -- but all he did for the sake of balance is note in passing that "Other Twitter users defended President Biden's climate czar, suggesting that he may have been about to eat or drink." (Could Goodenough not be bothered to verify that information?) That was follwed with several paragraphs of Goodenough rehashing airline and Biden administration policies on masks.
Goodenough did concede, however, that "Scientists say that masks, correctly warn, capture coronavirus-containing droplets that are emitted when a person speaks, sneezes or coughs, and that wearing one reduces the chances of transmitting and catching COVID-19." But he didn't mention that his employer has been claiming the opposite -- eight days earlier, CNS published a fringe doctor's claim that "healthy people should not be wearing surgical or cloth masks." So there's a mixed message here.
This is not "news" -- it's a political hatchet job. CNS did not treat the Trump administration's disdain of masks with the same derision.
Posted by Terry K. at 8:19 PM EDT
Updated: Tuesday, April 20, 2021 12:24 AM EDT