WND Censors Full Story of Mom's Lawsuit Against Transgender Teen
Topic: WorldNetDaily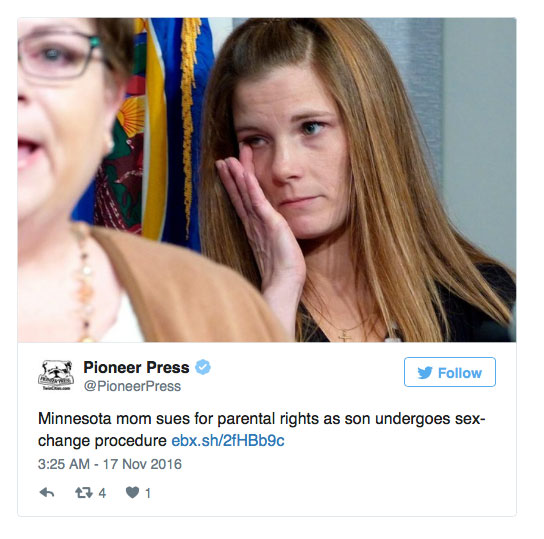 Whenever WorldNetDaily reports on a legal case promoted by one of its favorite right-wing legal organizations, the question one should always ask is: What is WND hiding about this story that undermines the case?
Bob Unruh writes in a Nov. 16 WND article:
Can a team of advocates for transsexuality, from a school district and a medical services organization to county social workers, simply decide that a 17-year-old minor is "emancipated" from his parents and go ahead with male-to-female sex-change treatments with no further permission?

That's the question being asked in a lawsuit against St. Louis County in Minnesota, its public health chief Linnea Mirsch, Fairview Health Services, Park Nicollet Health Services, St. Louis County School District, Cherry School Principal Michael Johnson and others.

"This is an outrageous abuse of power by multiple agencies," said Tom Brejcha, chief counsel of the Thomas More Society, which is working with local attorney Erick Kaardal of Mohrman, Kaardal and Erickson of Minneapolis on the case.

"To treat a minor child without either parental consent or a court order of emancipation is a violation of the trust placed upon the human service sector and its governmental oversight agencies. To give a parent no recourse to intervene in this situation is an egregious violation of constitutional rights," Brejcha said.

[...]

But the complaint, posted online, argued the defendants have worked together to provide the minor, identified only as JDK, with funds for living, health consultations, legal consultations, medical treatments and more – all without any legal adjudication that JDK is emancipated.

That means, the lawsuit contends, JDK's biological mother and custodial parent, Anmarie Calgaro, has suffered a multitude of violations of her constitutional parental rights.

[...]

Kaardal explained: "Ms. Calgaro as a Minnesota parent is entitled to notice and hearing when parental rights regarding a minor child are terminated. Regarding emancipation, the courts recognize a common law right for a teenager to petition for emancipation; but, the courts do not recognize a corresponding common law right for a parent to petition to de-emancipate a teenager. Thus, Minnesota statutes constitutionally err by allowing a medical service provider to treat a teenager as emancipated without a court order and without providing parents a post-deprivation process to challenge the medical service provider's determination of emancipation. Similarly, the county's and school district's determinations of the teenager's emancipation without a court order violate the parent's right to notice and a hearing; but, unlike the medical service providers, the county and the school district do not have a statute to pin their unconstitutional conduct on."
As is typical for Unruh and WND, no effort is made to tell the full story -- he's just doing stenography for the Thomas More Society. But there is another side of this story that goes beyond WND's stenography. The Washington Post, an actual news organization, reports:
What complicates the case is Calgaro's relationship with her daughter, which was described as estranged in a letter attached to the complaint. The letter, from Mid-Minnesota Legal Aid, declared the teenager legally emancipated under state law in June 2015 due to "conduct by the parent in giving up control and custody of the minor."

At that time, the teenager told Legal Aid she had been living separately from Calgaro for at least six months and was working two jobs to financially support herself while enrolled in high school and college courses. Calgaro, the teen claimed, knew where her daughter was staying but "made no attempts" to bring her home, contact her or report her as a runaway to authorities.

That, Legal Aid determined, made the teen "legally emancipated," even though there was no court order. The designation would automatically qualify the teen for health care through social service programs, allowing her to make medical decisions — even elective ones — without parental consent.

The teen decided to begin transitioning from male to female.
Also, while Unruh hand-waves non-agency parties being sued by the Thomas More Society as "others," the Post points out that one other target of the lawsuit is Calgaro's son-turned-daughter. In other words, she's suing her own child.
Further, the Thomas More Society's complaint admits that "Minnesota common law allows for the emancipation of minor children" without a defined legal process. But as NBC notes, Minnesota law does not use the term "emancipation," but state law does provide for minors to make their own medical decisions -- which raises the concern that the Thomas More Society may be using this lawsuit as a stealth attack on state abortion law because the statute that allows minors to make their own medical decisions is echoed in the state's parental notification law regarding abortion.
Once again, WND has skewed a story around its pet issues of parental rights and hating transgenders.
Posted by Terry K. at 12:46 AM EST