MRC Works The Democratic Debate Refs Again
Topic: Media Research Center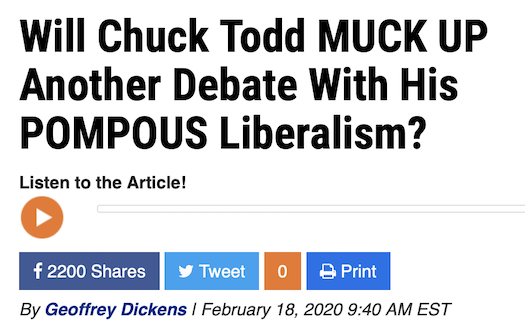 Last fall, we documented how the Media Research Center loved to work the refs by engaging in pre-emptive attacks on the purported liberalilsm of the moderators for Democratic presidential debates. As primary season kicked off, the MRC renewed its attacks.
Geoffrey Dickens asked in the overheated headline of his Feb. 18 item: "Will Chuck Todd MUCK UP Another Debate With His POMPOUS Liberalism?" He then trashed Todd's performance at a debate last wummer:
Chuck Todd's performance at last summer's Democratic primary debate was so irritating that even fellow liberals like comedian Stephen Colbert panned the NBC Meet the Press host for being a "complete ass" and "a guy who really likes the sound of his own voice."

But it wasn't just Todd's moderating style that was hard to take, it was his obnoxious questions from the left that he posed to the liberal candidates on stage.
Dickens was echoing a post from last summer in which Scott Whitlock huffed that Todd and "far-left host Rachel Maddow" had "catered to the party's far-left base."(The MRC loves to label everyone and everything "far left.") Dickens then listed "just a few examples of Todd's most liberal moments since Trump announced his candidacy in 2015, as culled from the MRC's archives."
Prior to a CBS-hosted debate, Dickens groused on Feb. 25:
Meet tonight's Democratic debate moderators: One is a Democratic donor and the other one might as well be.

CBS This Morning co-host Gayle King has a long history of supporting Democrats. According to Open Secrets, she's donated to Barack Obama, the DNC, and Harold Ford Jr and is "good friends" with New Jersey Democratic Senator Cory Booker. Even while at CBS, she donated to Obama and attended his birthday party. Most recently, she vacationed with the Obamas.

CBS Evening News anchor Norah O'Donnell has a long career of donating to liberals in the form of softball questions and praise of Democratic lawmakers while attacking Republicans and conservatives. She referred to current presidential candidate and former Vice President Joe Biden as "Uncle" Joe but once openly questioned if current President Donald Trump was "dangerous to democracy" and should be "removed from office."
Yes, Dickens was mad that O'Donnell had a relatively affectionate name for Biden that, um, Fox News has also used.
Curtis Houck did a post-debate attack: "Along with the fact that they lost complete and total control of Tuesday's Democratic presidential debate, co-moderators Gayle King and Norah O'Donnell joined the seven candidates by peddling a far-left narrative about gun control, fretting about a 'gun crisis.'" (There's that overused "far left" label again!) Whitlock, however, did throw the hosts a bone, praising co-host Margaret Brennan for advancing a conservative narrative by asking "the question that millions of Americans are concerned about. Bernie Sanders's embrace of dictators."
Posted by Terry K. at 5:53 PM EST