WND Repeats Fake-News Ukraine Story
Topic: WorldNetDaily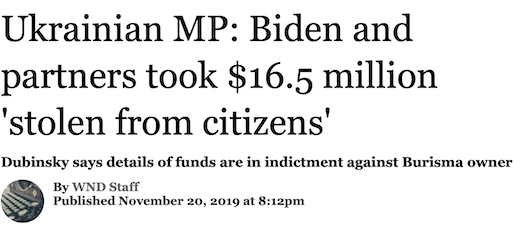 An anonymously written Nov. 20 WorldNetDaily article asserted:
A Ukrainian member of parliament says that Hunter Biden and his corporate cronies made $16.5 million from the Ukrainian gas company Burisma Holdings.

[...]

Joe Biden is on video boasting he threatened Ukraine officials the U.S. would withhold aid if they didn't fire the general prosecutor, who was investigating Burisma at the time.

The Zerohedge blog reported an "indictment drawn up by Ukraine's Office of the Prosecutor General against Burisma owner Nikolai Zlochevsky claims that Hunter Biden and his partners received $16.5 million for their 'services' - according to Ukrainian MP Alexander Dubinsky of the ruling Servant of the People Party."
But as an actual news organization reported, this isn't actually true: no indictment was announced. Further, "ZeroHedge apparently misconstrued the original Russian article from the Interfax-Ukraine News Agency, which did not mention an indictment. The Interfax-Ukraine News Agency operates as part of Interfax, a Russian news outlet."
In other words, ZeroHedge is pushing Russian propaganda, it got that propaganda wrong to the point that it became even more propagandistic. The original ZeroHedge article has been corrected to more accurately state that "a document leaked from the Ukraine's Office of the Prosecutor General contains claims against Burisma owner Nikolai Zlochevsky."
The actual news organization also cited an expert on Russian kleptocracy, who pointed out that Dubinsky, the Ukraine official helping to push this claim, is "not credible" and that he and a fellow Ukraine official who also pushed this claim are "professional disinformers. ... Anybody who's anybody knows about these two. They are not credible." WND didn't mention that either, which tells us that it (and ZeroHedge) are not among the "anybody who's anybody."
Meanwhile, WND's article remains uncorrected.
There's another claim in the WND article that's false as well: the asserion that the Ukrainian prosecutor Biden wanted fired "was investigating Burisma at the time." In fact, the prosecutor, Viktor Shokin, was not investigating Burisma or much else at the time, which is why Biden (and other European countries) wanted him fired.
WND's insistence on pushing fake news even while it's fighting to stay alive does not inspire confidence in answering in the affirmative about whether WND deserves to live.
Posted by Terry K. at 12:24 AM EST