MRC's Philbin Thinks Criticizing A Conservative Athlete's Death Threat Is 'Cancel Culture'
Topic: Media Research Center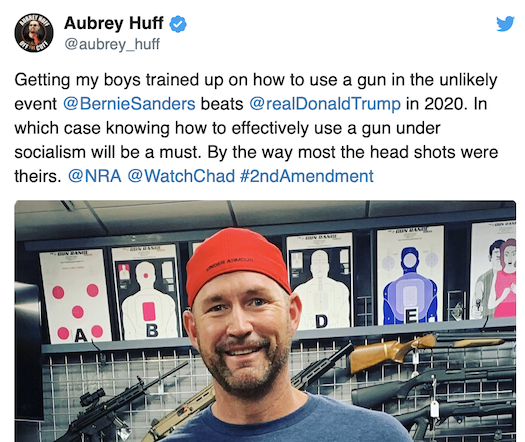 Oh, those wacky death threats. Aren't they just silly and unserious?
The Media Research Center's Matt Philbin thinks so. He spent a Feb. 18 post complaining that former San Francisco Giants player Aubrey Huff wasn't invited to a 10th anniversary gathering of the 2010 team's World Series appearance because of his history of threatening and offensive tweets -- which, of course, Philbin falsely framed by insisting that Huff was disinvited because of his support of President Trump and declaring that "cancel culture has made the big leagues."
And what is the "culture" that's supposedly being "canceled" here? Well, death threats for one. Like Huff's tweet saying: "Getting my boys trained up on how to use a gun in the unlikely event @BernieSanders beats @realDonaldTrump in 2020. In which case knowing how to effectively use a gun under socialism will be a must. By the way most the head shots were theirs."
Most normal people would see this as an implicit death threat at the very least and an explicit one at worst. Not Philbin, though -- he declared this threat to be "serious" and "silly" and then sneered: "Okay, maybe the tweet wasn't a good idea. Lefties are triggered (sorry) by men, boys and guns in the best of circumstances, but put the three together, toss in a political reference and you've got soiled culottes all over the Bay Area."
Interestingly, Philbin never quoted from this tweet, only included a screenshot that has since mysteriously disappeared.
Another Huff tweet argued that Americans should kidnap attractive women from Iran so they can "fan us and feed us grapes, amongst other things." Philbin proclaimed this to be a "joke," even though the MRC sees no humor in jokes from actual comedians if they choose a conservative target. Similarly, Philbin gave Huff a pass on his defense that his tweets are "locker room humor" that "is meant to be satirical, and sarcastic."
None of the Huff tweets Philbin cited, undercutting his narrative that Huff is a victim of his backing of Trump.
Philbin concluded by, er huffing: "Look, Huff is a dinosaur -- a throwback to the dark ages of the 2010s. The Giants know it, and they have a responsibility to shield the people of San Francisco from the kind of monster who would say, 'To the fans, you were always amazing to me. And just because I might not share some of your political views (which are stupid) I still repect your right to express them.'" Weird that the MRC never defends a liberal for acting like a "dinosaur."
Posted by Terry K. at 2:44 AM EST
Updated: Friday, February 28, 2020 9:07 AM EST