The MRC's Latest 'Moderate' Meltdown
Topic: Media Research Center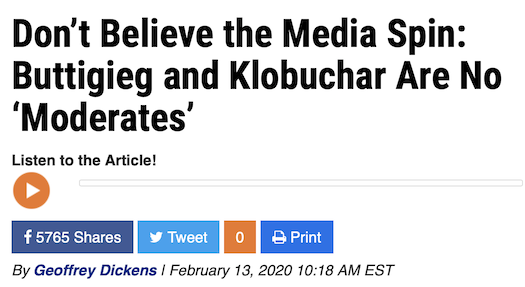 For some reason -- perhaps to fulfill a mandated right-wing narrative -- the Media Research Center has spent months obsessing over the idea that some Democratic presidential candidates cold be considered "moderate." As the primary process heated up, the MRC's obsession renewed.
MRC officials Tim Graham and Brent Bozell kicked things off in January by invoking a conservative measure of politics:
The American Conservative Union ratings system has been widely accepted as the voting compass from the perspective of the right. According to the ACU, a centrist would look like Sen. Susan Collins of Maine, who has a lifetime ACU score of 44.8%. Reporters could call her a "liberal Republican," and they should, except that term simply doesn't exist. (Don't believe us? Check it out.)

Or take Sen. Joe Manchin of West Virginia, who is considered a "conservative Democrat," but that animal doesn't exist in the Senate. His lifetime ACU rating is 26.7%, putting him in lockstep with the left almost three-quarters of the time.

Where this all gets ridiculous is the presidential field.

[...]

With extreme socialists like Sen. Bernie Sanders in the race, anyone who isn't endorsing a socialist position — like redistributing wealth, abolishing private health insurance and shredding the fossil fuel industry — is categorized as a centrist. Defending the leftist lurch that was Obamacare is now the centrist position in this daffy media dictionary.
The problem here is that the ACU rating is not an objective one -- as even Graham and Bozell admit, it vews things "from the perspective of the right." But however inaccrate and skewed, the MRC now had a narrative to peddle.
Clay Waters complained that the New York Times described Pete Buttigieg as a "moderate." Two days later, Scott Whitlock grumbled that "During the 2020 Democratic primaries, CBS This Morning journalists have repeatedly spun several of the candidates as 'moderates,'" to which he retorted by referencing the ACU sores, though he never explained how they are a reliable indicator of anything. He added as purported evidence of Amy Klobuchar's lack of moderation: "Klobuchar is radically pro abortion, promising to 'reverse Trump abortion policies in the first 100 days.' She supports extensive gun control restrictions and is 'open' to expanding and packing the 'Supreme Court.'" (No explanation of why Whitlock put "Supreme Court" in scare quotes.) Whitlock also used his headline to call CBS "deluded."
Kyle Drennen groused that one interviewer called Buttigieg a "moderate Democrat" but failed to "grill Buttigieg on some of his own radical views on abortion or packing the Supreme Court," adding without evidence: "Bernie Sanders is so extreme that the media are working to paint the rest of the left-wing Democratic field as 'moderate' by comparison."
Graham and Bozell returned to declare that "the Democratic field toes an extreme line": and that "lazy journalists often stick to this false 'moderate' terminology on the campaign trail. This again ignores the fact that they're seeing things from right-wing viewpoint that's not reflective of objective reality.
Geoffrey Dickens declared in a headline, "Don't Believe the Media Spin: Buttigieg and Klobuchar Are No 'Moderates'," adding; "During their coverage of the New Hampshire Democratic primary contest, cable and network journalists INCESSANTLY hyped Klobuchar and Buttigieg as 'moderates,' but a cursory look at their public stances reveal that either one of them would be the most liberal Democratic candidate ever nominated to be President." Like the rest of his MRC compadres, Dickens won't admit that this "cursory look" is too biased to be taken seriously.
Waters returned as well: "In its quest to find moderates or even 'centrists'among the Democratic field of presidential candidates to pit against the avowed leftists, The New York Times must ignore several of the candidates' actual voting records and public policy stands."
Under the sneering headline "They Think You Are Dumb," Whitlock huffed: "The journalists at CBS This Morning on Monday waved goodbye to Pete Buttigieg's 2020 campaign with one last disingenuous claim that the liberal Democrat is a 'moderate.' This weekend, all three networks cheered mysterious "moderate" alternatives to Bernie Sanders. Apparently, all you have to do to be a centrist is simply not take a vacation to the Soviet Union like Bernie Sanders."
Of course, Whitlock and the rest of the MRC think you're dumb if you believe their definition of "moderate" is not skewed by their right-wing worldview and agenda.
Posted by Terry K. at 9:25 PM EST