MRC Lashes Out At Story That Debunks Its Anti-Facebook Narrative
Topic: Media Research Center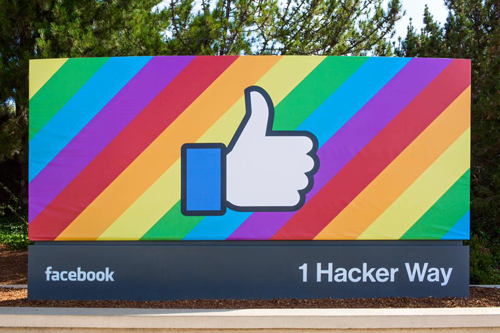 For years, the Media Research Center has pushed the narrative that Facebook as biased against conservatives -- even as that keeps getting proven wrong, to the extent that MRC chief Brent Bozell is having secret off-the-record dinners with Facebook chief Mark Zuckerberg. It's still fighting to keep that bogus narrative alive.
On Feb. 20, the Washington Post published an article detailing how conservatives wield influence inside Facebook, fighting against the platform removing fake news becasuse it will disproportionally affect conseratrives and other policies showing it "has tilted rightward to deliver policies, hiring decisions and public gestures sought by Republicans" and to curry favor with the Trump administration.
This undermined the MRC's anti-Facebook narrative even further and, needless to say, it wasn't happy about it. Corinne Weaver spun in a Feb. 24 post with a boatload of whataboutism that never challenged any of the article's facts:
The liberal media sees working with President Donald Trump or Republicans as a black mark on one's reputation. For The Washington Post, having a handful of Republican employees means that Facebook fears Trump and the GOP.

The result was a 4,107 word story that was more a whine about Facebook not being left-wing enough.

[...]

Timberg stated that Facebook was described by unnamed critics as having "a willingness to accede to political demands in an era when Republicans control most levers of power in Washington." In fact, one former unnamed Facebook employee was quoted as saying, "This is what [Facebook] know[s] about Republicans: Tell them 'yes' or they will hurt us."

However, Facebook seems to have had no trouble getting along with Democrats and liberals either, not that The Post cared. Facebook CEO Mark Zuckerberg has worked with Democratic candidate Mayor Pete Buttigieg. The Post even brought up the fact that Facebook employees donated $5,171 to Trump in 2016, but gave Clinton $1.1 million in that same timespan.

[...]

More than that, Facebook has allowed Democrats and liberals to help shape its community standards. In 2018, Sandberg wrote that Facebook had a "civil rights audit" which was led by the former director of the American Civil Liberties Union, Laura Murphy. Over 90 civil rights organizations were consulted. Murphy wrote that she "rejected the false dichotomy of choosing free speech at the expense of other rights." Sandberg wrote that the audit was "one of my top priorities for 2019."

That endorsement was far stronger than anything the company said about its audit of the right.

[...]

The decision to avoid fact-checking political ads was described as "yet another effort by Facebook to steer clear of Republican wrath." Ignored was the quiet update from Facebook made in late 2019 that banned the denial of transgender people's existence.
Weaver didn't explain how "the denial of transgender people's existence" is a key tenet of conservatism.
The story was such a threat to the MRC's narrative that apparatchik Dan Gainor issued a press release devoted to attacking it -- again, using lots of whataboutism and failing to challenge any of the facts in the article:
"The Washington Post article, "How conservatives learned to wield power inside Facebook" was either ignorant of basic facts or deliberate propaganda. The real complaint was that Facebook hasn't been as left-wing as other major social media outlets.

"Instead of depicting a company dominated by the left but trying to land closer to the middle, the paper manufactured a rightward shift because the firm wouldn't do the bidding of liberal executives, employees and politicians.

"The future of Big Tech must be tied to keeping people free online. That freedom requires everyone being treated fairly, but since when has the Post wanted conservatives treated in a fair way. This is why the Free Speech Alliance of more than 60 conservative organizations urges: 'Tech giants should afford their users nothing less than the free speech and free exercise of religion embodied in the First Amendment.'"
The press release added: "While the 4,107 word story detailed every moment Facebook has worked with the right, it ignored the millions Facebook staff have donated to liberal causes and candidates and, most importantly, the influence leftist groups had in shaping Facebook's content policies and community standards.
Neither Weaver nor Gainor mentioned the fact that their boss had a secret dinner with Zuckerberg.
The MRC is so sensitive abouts it bogus narrative being challenged that Tim Graham was compelled to devote the Feb. 26 edition of his newly solo column to attacking the Post piece. Graham, like his subordinates, knows he can't dispute the article's fact, so his column is one long fit of whataboutism, deflecting from Facebook's kowtowing to conservatives by claiming "that's not what conservatives are finding," then launched into a long diatribe about how "Tom Elliott of Grabien posted a video on Facebook of Sen. Bernie Sanders at a rally" (he did not identify Elliott as a conservative activist) that was flagged for false information because of a misleading, biased headline.
And, no, Graham did not mention the fact that the guy with whom he used to share a column byline had a secret dinner with Zuckerberg. Maybe Graham and Co. should 1) admit that Bozell had that dinner with Zuckerberg, and 2) disclose its contents to MRC readers.
Posted by Terry K. at 2:51 PM EST
Updated: Wednesday, March 4, 2020 4:03 PM EST