No, MRC, Court Did Not Rule That 'YouTube May Censor Conservatives'
Topic: Media Research Center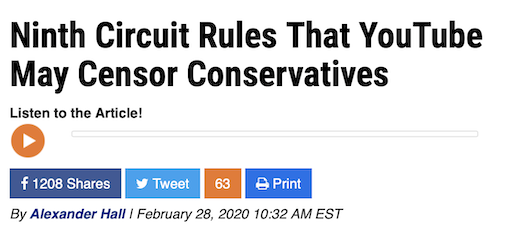 The headline of Alexander Hall's Feb. 28 Media Research Center item states, "Ninth Circuit Rules That YouTube May Censor Conservatives." That is a lie.
First, a little background: The MRC has been talking up the lawsuit that ended in this ruling for quite some time. corinne Weaver supplied a biased summary in an August 2019 post:
PragerU, a conservative media outlet known for its academic videos that explain traditional values and beliefs, will argue its appeal in a federal court on August 27. After a court dismissed the case on March 28, 2018, the company filed an appeal with the Ninth Circuit Court against Google and its sister company, YouTube. PragerU accused Google of "targeting ideological differences and engaging in unlawful censorship and discrimination."

In a previous ruling, a federal court stated that "Google has no obligation to equally apply its services, or in this case, its ostensible penalties." PragerU filed another lawsuitin January 2019.

As of August 26, more than 100 videos produced by PragerU have been placed on YouTube's restricted list. According to YouTube, videos that "contain potentially adult content" are not available to viewers who have the restricted mode turned on. Content that falls under certain categories are automatically restricted, including material that talks about drugs and alcohol, sexual situations, violence, mature subjects such as terrorism, war, crime, and political conflicts that resulted in death or serious injury, profane language, and incendiary and demeaning content.

[...]

YouTube's restricted mode is used in places such as libraries, schools, and public institutions. So students trying to find a conservative point of view online in schools will not be able to access PragerU's content.
So YouTube is not actually "censoring" PragerU -- it's just age-restricting some of its content, and only for those who turn on YouTube's restricted mode. All one needs to do is turn off restricted mode and you have full access to PragerU videos. Yet somehow this has turned into a politically motivated lawsuit.
The motivation was clear in a separate August post by Hall, serving up more bias by calling PragerU "a popular conservative media outlet known for its academic but easy to understand videos which explain conservative ideas" and "are well known for their calm and measured tone." But Hall quoted PragerU officials exposing their real agenda -- they want to propagandize children and they want to be exempt from YouTube rules and scrutiny:
PragerU's Chief Marketing Officer Craig Strazzeri was one of a handful of speakers who spoke. He pointed across the street to the library as an immediate example of a place where PragerU would be restricted. "If a student walks into that public library, goes on the computer, and searches for PragerU videos," he said "there are over 200 that they will not be able to see" later adding for emphasis that five of those videos are on the Ten Commandments.

[...]

PragerU personality Will Witt declared the importance of remaining on YouTube. "We don't wanna just start our own platform, right? Because we're trying to reach everyone. There'd be so many leftists, people like me when I was in college, who we'd never reach."

[...]

Restricting these videos can mean that their target audience may be unable to watch for themselves. YouTube's restricted mode is used in locations such as libraries, schools, and public institutions.
So rather than editing content to remove the restricted-mode tag or simply leaving for another video platform, of which there are many, PragerU played victim and sued YouTube.
In short, no evidence is provided that YouTube is censoring conservatives exclusively -- that, of course, is the central claim of victimization by the tech industry that the MRC has been spouting for quite some time.
Back to the current article, in which Hall huffed:
The Ninth U.S. Circuit Court of Appeals ruled that YouTube may censor whomever it chooses, and is not bound by the First Amendment.

The ruling in Prager University v. Google dealt a blow to PragerU's cause this past Wednesday, according to The Hollywood Reporter's coverage. The decision upheld the district court's dismissal of an action brought by PragerU against YouTube and its parent company Google despite PragerU's claim that YouTube acts much like a public forum and therefore was obligated to uphold First Amendment protections for freedom of speech.

"Despite YouTube's ubiquity and its role as a public-facing platform, it remains a private forum, not a public forum subject to judicial scrutiny under the First Amendment," wrote Circuit Judge Margaret McKeown.

[...]

The Ninth Circuit explained that a key part of its reasoning in ruling against PragerU's First Amendment claim was that "PragerU does not dispute that YouTube is a private entity that operates its platform without any state involvement." Indeed, the Court noted that "private property does not 'lose its private character merely because the public is generally invited to use it for designated purposes.'"
You'd think that organizations that claim to care about constitutional rights like PragerU and the MRC would be happy that a court upheld the principle of private property rights against those who were trying to federalize it for their own purposes. Instead, Hall complained: "And while YouTube and Big Tech leadership have made claims that they support free speech in theory, they are not necessarily legally bound to fulfil them. ... In short, when Big Tech companies make hollow corporate platitudes about free speech and protecting your voice, don't expect much."
Posted by Terry K. at 7:10 PM EDT