MRC Politicizes Coronavirus With Its Attack Narrative Of Accusing Others Of 'Politicizing' It
Topic: Media Research Center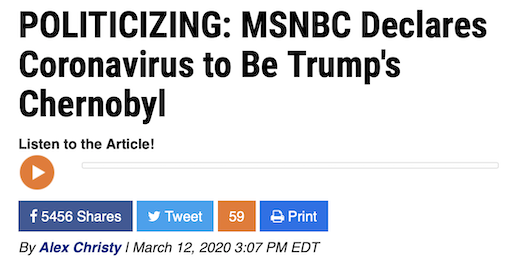 The Media Research Center has accused the media of politicizing the coronavirus outbreak for so long, it can now be credibly accused of politicizing the outbreak itself by pushing the "politicizing" narrative -- after all, the only reason the narrative exists is to protect its beloved President Trump, since it doesn't want you to believe there's no evidence that he downplayed the signfigance of the outbreak until he could no longer do so.
Let's take a look at how the MRC has pushed this narrative:
And the MRC gets real mad when that narrative gets turned on them. In a Feb. 28 post, Kyle Drennen complained that an MSNBC anchor was "attacking Fox News. Why? Because the competing cable channel was calling out attempts in the press to blame the Trump administration for the spread of the disease." Hehuffed in response: "Missing from the Fox-bashing segment was any mention of how 'irresponsible' the liberal media have been in their own effort to 'politicize' coronavirus." In other words, the same whataboutism we've come to expect from the MRC.
Kristine Marsh did much the same thing in a post the same day: "Despite a NewsBusters study showing Trump-bashing takes center stage on CNN's coronavirus reporting, CNN Newsroom host Brooke Baldwin and media reporter Oliver Darcy raged that Fox was putting the public in danger by sowing skepticism over their anti-Trump reporting on the coronavirus." That "study" would be the one where the MRC failed once again to show its work and refused to consider whether criticism of Trump was justified.
Deflecting these attacks was the narrative of the day on Feb. 28. Randy Hall took a shot in his post that day:
It's easy to predict how Brian Stelter, host of the Sunday Reliable Sources program on CNN, will respond to any disagreements with President Trump and the anchors on the Fox News Channel. He simply dismisses anything they say as simply being wrong.

That was obviously the case on Friday, when the network's chief media correspondent was a guest during a segment of the At This Hour program as hosted by Kate Bolduan. He dismissed the network's claims of the left weaponizing the virus against President Trump, "reprehensible" and an attempt "to make this all about Trump and politics when that's really not the arena this is being fought in."
Like the others, Hall never actually explains why any criticism of Trump is "politicizing" the issue but Fox News' blatantly partisan attacks on the media for criticizing Trump is not.
Finally, also on the same day, Tim Graham gave space to a lengthy Rush Limbaugh rant denying that his conspiracy theory that the coronavirus was created to destroy Trump was "politicizing" the issue.
Posted by Terry K. at 8:46 PM EDT