MRC Pretends All Attorneys Calling For Barr's Resignation Are 'Liberal Media Pundits'
Topic: Media Research Center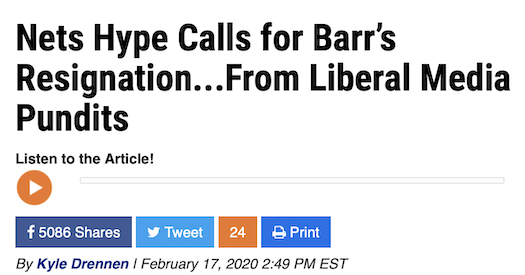 The Media Research Center's Kyle Drennen complained in a Feb. 17 post:
On Monday, the network morning shows predictably all seized on an open letter from former Justice Department officials demanding the resignation of Attorney General William Barr. However, the broadcasts conveniently left out the fact that several of the ex-DOJ employees who signed on to the letter currently serve as professional anti-Trump pundits on CNN and MSNBC.
But Drennen never gets beyond identifying "several" signatories -- and even the Daily Caller article to which he links names only eight "liberal media pundits" who signed the petition. Drennen also never explained how this paltry number discredited a petition signed by more than 1,100 ex-DOJ officials (a number that has since grown to more than 2,000). Are they all "liberal media pundits"? Highly unlikely, though Drennen wants you to think otherwise.
Drennen even acknowledged that officials that worked under both Democratic and Republican presidents, then huffed that "no mention was made of how many liberal media pundits were included in the letter. (Eight, Kyle. The number is eight.)
After once again complaining about "the anti-Trump punditry regularly offered by several of those who signed the letter," Drennen closed by grumbling: "The President's most vocal political opponents are somehow portrayed by press as objective experts who are simply 'taking a stand' and trying to 'instill a broad sense of responsibility.'" But it's the height of irresponsibility and partisan hackery for Drennen to presume that because eight signatories are "liberal media pundits" that all 1,00-plus are.
Of course, we know that neither Drennen nor anyone else at the MRC can be bothered to do the actual research to determine the political leanings of each and every signatory, despite being employed by an organization that claims to do "media research." The slight guilt-by-association smear is all that counts as "media research" here.
But Drennen wasn't the only MRC writer desperate to downplay the letter. Nicholas Fondacaro dismissed the letter as "self-righteous" then grasped at the whataboutism card, grumbling that "there was no such letter when the DOJ inspector general found that the FBI had lied to the FISA Court in order to obtain warrants to spy on a Trump campaign aid." He also insisted the letter's signatories weren't "bipartisan" because "they and the media share the same political motivation: remove Trump at all costs."
The MRC's motivation is to save Trump at all costs, so Fondacaro, Drennen and crew are propbably not the mosdt qualified people to serve up so-called "media research" on this subject.
Posted by Terry K. at 9:46 PM EST