WND Treats Joke That Hillary Killed Jeffrey Epstein Very Seriously
Topic: WorldNetDaily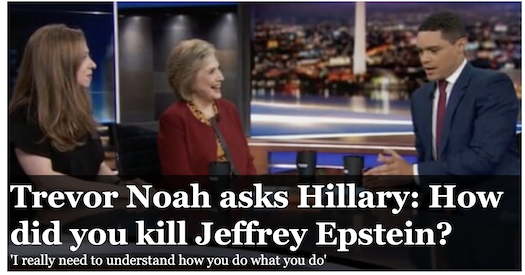 We've documented how WorldNetDaily fell into its own conspiracy-mongering tendencies by pushing the idea that Jeffrey Epstein was murdered in prison, perhaps on the orders of the Clintons. That tendency continued in an anonymously writtern Nov. 1 article that deliberately decided to treat an obvious joke very seriously:
Seizing on a famed pathologist's insistence this week that accused child predator Jeffrey Epstein might have been murdered, Comedy Central host Trevor Noah jokingly asked Hillary Clinton in an interview Thursday how she did it.

"I have to ask you a question that has been plaguing me for a while: How did you kill Jeffrey Epstein?" Noah asked Clinton, who appeared with her daughter, Chelsea, to promote their new book.

Clinton burst out laughing.

Noah, saying she's been a "boogeyman" for the right, kept up the irony.

Somehow, he said to Clinton, "you're not in power but you have all the power" to do something like kill wealthy financier, who is known to have hosted her husband on his infamous "Lolita Express" private jet.

"I really need to understand how you do what you do, because you seem to be behind everything nefarious, and yet you do not use it to become president," he said.

Clinton replied she's "constantly" surprised at the conspiracies about her and her husband.

"The things they say, and now, of course, it's on steroids with being online, are so ridiculous, beyond any imagination that I could have," she said. "And yet they are so persistent in putting forth these crazy ideas and theories. Honestly, I don't know what I ever did to get them to upset. ... I've gotten kind of used to it."
WND didn't mention that it is one of the leading promoters of conspiracy theories about the Clintons, including the utterly bogus claim that Hillary was involved in the murder of Seth Rich.
WND also repeated the claim that "Pathologist Dr. Michael Baden said in an interview Wednesday on 'Fox & Friends' that the autopsy of Epstein after he was found dead in his prison cell was more consistent with homicide than suicide," but didn't mention the relevant fact that Baden is working for Epstein's family, and is therefore being paid to advance a certain point of view.
Posted by Terry K. at 12:52 AM EST
Updated: Monday, November 11, 2019 12:53 AM EST