WND Touts Michael Flynn Fund-Raiser, Conspiracy Theory
Topic: WorldNetDaily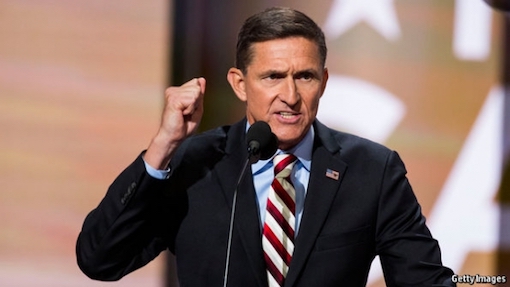 An anonymously written Nov. 1 WorldNetDaily article touts a fundraiser for admitted perjurer Michael Flynn and advances the right-wing conspiracy theory that Flynn pleaded guilty to a crime he didn't commit:
Supporters of Lt. Gen. Michael Flynn who contend he is an American patriot who was unfairly targeted by Robert Mueller's Russia investigation are holding a gala fundraiser in his honor next week.

Flynn, who briefly served as President Trump's national security adviser, faces a hearing next month for his guilty plea for lying to the FBI in the Mueller investigation. But his defenders point out that Senate Judiciary Committee members say former FBI Director James Comey told them that FBI agents did not think Flynn was lying intentionally when he was first interviewed about his conversation with Russian Ambassador Sergey Kislyak.

The fundraiser, Nov. 11, culminates a conference called Operation Classified organized by John B. Wells, host of the radio program "Caravan to Midnight" and a former host of "Coast to Coast AM."

[...]

Flynn's youngest sibling, Joseph Flynn, the spokesman and a trustee of the Mike Flynn Legal Defense Fund, accepted the offer and will be at the event.

"General Flynn is a victim of political expedience, political skullduggery and lawfare," said Wells.

The left, he said, "crewed up and destroyed the man's reputation, his families' reputations and his finances."
As we pointed out when WND columnist James Zumwalk embraced this conspiracy theory, it ignores that Flynn was being investigated on other charges of making false statements, particulaly regarding his lobbying for Turkey. In his plea agreement, Flynn pleged to cooperate with Mueller in exchange for the rest of the charges against him being dropped.
Of course, WND won't report that because it's an inconvenient fact to the fund-raiser.
Posted by Terry K. at 3:15 PM EST