The MRC's Idea Of A 'Legitimate Journalist'
Topic: Media Research Center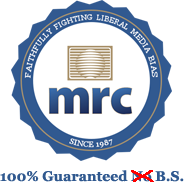 The Media Research Center's Scott Whitlock wrote in a Sept. 26 post (bolding in original):
Joe Biden took another slap at the press on Wednesday night, falsely stating that "no legitimate journalist" gives any credibility to claims that, as vice president, he improperly intervened on behalf of son Hunter Biden. After Jimmy Kimmel Live host Jimmy Kimmel wondered about the "gossip element" of the Ukraine story, Biden responded with an unprompted attack on unnamed reporters: "Look, you know, when you step back from it, this is not about me and my family. There's not one single solitary legitimate journalist in the world given any credibility to this."

He added, "They've debunked all of what he had to say for the past — since Giuliani started this a while ago." Of course, Kimmel let this go and didn't challenge the 2020 Democratic presidential candidate.

In fact, award-winning investigative journalist John Solomon has written about Biden's efforts on behalf of his son. Writing in The Hill, Solomon explained:

As I have reported, the pressure began at least as early as January 2016, when the Obama White House unexpectedly invited Ukraine's top prosecutors to Washington to discuss fighting corruption in the country.

The meeting, promised as training, turned out to be more of a pretext for the Obama administration to pressure Ukraine's prosecutors to drop an investigation into the Burisma Holdings gas company that employed Hunter Biden and to look for new evidence in a then-dormant criminal case against eventual Trump campaign chairman Paul Manafort, a GOP lobbyist.

In a separate story from April, Solomon detailed:

At the time, Burisma [Holdings] allegedly was paying then-Vice President Joe Biden's son Hunter as both a board member and a consultant. More than $3 million flowed from Ukraine to an American firm tied to Hunter Biden in 2014-15, bank records show.

According to [political officer in the Ukrainian Embassy in Washington Andrii] Telizhenko, U.S. officials told the Ukrainians they would prefer that Kiev drop the Burisma probe and allow the FBI to take it over. The Ukrainians did not agree. But then Joe Biden pressured Ukrainian President Petro Poroshenko to fire Ukraine's chief prosecutor in March 2016.

Of course, Kimmel didn't mention any of this or challenge Biden's attacks on the press.
And, of course, Whitlock didn't mention that John Solomon isn't exactly a "legitimate journalist." He's a right-wing shill who's working for the benefit of Trump, and his Ukraine narrative is factually flawed -- fake news, one might say. In fact, Solomon worked with Trump atorney Rudy Giuliani -- who leaked to Solomon a dossier regarding his dirty-tricks work in Ukraine -- to publicize this story (factual flaws and all) with the goal of hurting Biden presidential campaign and boost Trump's re-election. Solomon's shoddy reporting has paid off in a sweet new contributor spot at Fox News.
But Whitlock and thte MRC aren't interested in looking into Solomon's veracity -- at least, as long as he tells them what they want to hear.
Posted by Terry K. at 9:29 PM EDT