CNS Plays Up 'Eat The Babies' Rant At AOC Town Hall, Censors Fact That It Was A LaRouche Stunt
Topic: CNSNews.com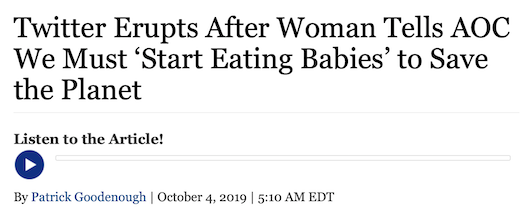 Patrick Goodenough dutifully wrote in an Oct. 4 CNSNews.com article:
Rep. Alexandria Ocasio-Cortez (D-N.Y.) faced awkward moments during a town hall meeting on Thursday evening, when a woman stood up and said it was time to "start eating babies" to save the planet from imminent climate-induced doom.

The incident in Corona, New York sparked some heated posts on Twitter later, with President Trump, Donald Trump Jr., 2020 Democratic presidential hopeful Sen. Bernie Sanders, and Ocasio-Cortez herself among those weighing in.

"We're not going to be here for much long [sic] because of the climate crisis," the woman began, after standing up uninvited and being handed a microphone.

"We only have a few months left!" she declared. "I love that you support the Green [New] Deal but it's not ge – getting rid of fossil fuel is not going to solve the problem fast enough."

The woman, who spoke with a northern European accent and appeared to be deadly earnest, then referred to recent news reports about a Swedish professor having said "we can eat dead people."
Goodenough went on to tout how President Trump and Donald Trump Jr. referenced the incident to attack Ocasio-Cortez, then highlighted an article abourt "a phenomenon called 'eco-anxiety,' which the writer described as 'a fairly recent psychological disorder afflicting an increasing number of individuals who worry about the environmental crisis.'"
Buty, strangely, Goodenough didn't update his article to report the pertinent the fact that this was a stunt perpetrated by a supporter of Lyndon LaRouche, whose extremist followers once purported to be Democrats but are now supporters of President Trump. No other CNS article followed up the story with this important information.
Not exactly journalistic fairness, is it?
Posted by Terry K. at 12:43 AM EDT