CNS Writes Pro-Trump Press Releases
Topic: CNSNews.com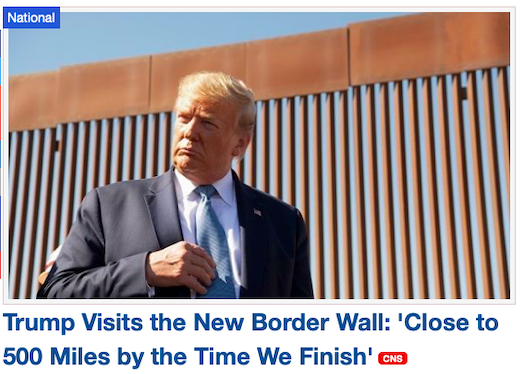 Employment statistics are not the only place where CNSNews.com does its pro-Trump rah-rah. Now that the 2020 presidential election is going into full swing, CNS is now publishing "news" article that may as well be Trump campaign press releases.
A Sept. 11 article by Kharen Martinez Murcia declared:
The number of people in the Supplemental Nutrition Assistance Program (SNAP), popularly known as food stamps, has fallen by 6,686,087 since Donald Trump assumed the presidency on Jan. 20, 2017.

In January 2017, there were 42,715,593 people receiving SNAP benefits, according to the U.S. Department of Agriculture (USDA), which oversees the program. As of June 2019 – latest data available – there were 36,029,506 people receiving SNAP benefits, a decline of 6,686,087 persons.
Then, in a Sept. 19 article, Susan Jones got positively gushy when writing about Trump visiting a border wall construction:
President Donald Trump smiled on Wednesday, as he received a briefing on a section of his long-promised border wall that is now under construction south of San Diego, California.

"I wanted to show you some of the details of the wall," Trump told the reporters covering him. "You can see a pretty good view. This is going to be close to 500 miles by the time we finish. Those are the areas that are most important."

Trump said the wall will be either 18 feet high or 30 feet high, depending on the land where it is located and how heavily trafficked that area is. In some places, such as where he was standing near Tijuana, there is a double wall -- one on the border, and another one running parallel to it on the U.S. side.
Jones also uncritically repeated acting Customs and Border Protection Commissioner Mark Morgan sucking up to his boss:
Morgan disputed the "false narrative that this wall is the president's 'vanity project.'"

"I'm here to tell you right now, that's false," Morgan said.

"This president, this administration, what they did was exactly what the president just explained. He reached out to the experts, to the Border Patrol agents that are on the front lines every singles day, risking their lives protecting this country, enforcing the laws that Congress enacted.

"He reached out to those agents to those line agents and asked, what do you need to do your job more effectively to secure and safeguard this country, and those Border Patrol agents said, 'We need this.' So this president, thank you, you listened to the agents and you gave them exactly what they asked for," Morgan added.
Despite the mention of the wall being "new," Jones didn't mention that what little wall has been constructed is a replacement for existing barriers, not barriers in areas that did not have them before.
The closest that Jones got to breaking from press-release mode was the very last paragraph, when she repeated Trump's claim that "three foreign delegations" had come to "study" the new wall then parenthetically added, "he didn't name them."
Posted by Terry K. at 12:53 AM EDT
Updated: Friday, October 11, 2019 9:09 AM EDT