CNS' Allen West Misrepresents Facts of Kate Steinle Death To Bash Illegal Immigrants
Topic: CNSNews.com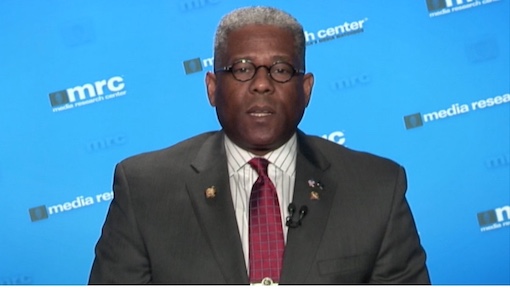 Allen West ranted in a Sept. 3 CNSNews.com column about the Kate Steinle case:
No one unwittingly picks up a gun and fires the gun accidently at another person. In the military we dealt with instances of "accidental discharges" of a weapon, but normally these occurred when someone was doing a functions check on their weapon or clearing it and not following proper procedures. And if you are a five-time deported illegal immigrant, one would think the last thing you would want to do is pick up and discharge a weapon in public.

[...]

The sad and tragic reality is that even an alleged criminal illegal immigrant is more important in California than the life of an innocent young American woman, Kate Steinle. And ponder this: all the talk from the progressive, socialist left about gun control when an incident suits their narrative. However, I spoke in California about the Second Amendment at Orange County College, and there were students who had never heard of Kate Steinle!

Why were there no national conversations and outrage about this tragic death of Kate Steinle? How could it be that an alleged criminal illegal immigrant was in possession of a firearm, firing it in a public space? And yes, I do find it rather perplexing that in a public space, there was a firearm just laying there wrapped in a t-shirt. After all, aren't the gun control laws in California quite stringent?
West is misrepresenting the facts of the case. The defense the "criminal illegal immigrant," Jose Ines Garcia Zarate, used in his trial over the death of Steinle was that he found the gun -- which had been stolen a few days earlier from a federal Bureau of Land Management ranger -- on the pier and that the gun accidentally went off when he picked it up. He was acquitted of murder and involuntary manslaughter in Steinle's death after prosecutors failed to convince juror's that Garcia Zarate's acts were premeditated. A few days before West's column appeared, a California appeals court reversed Garcia Zarate's conviction on being a felon in possession of a firearm because picking up a gun he found on the ground did not constitute "possession."
West was all about bashing undocumented immigrants in his column, insisting with all the pathos he could muster that "the ideological agenda of the left is more important than the life of a young innocent American woman who died in her Dad's arms and uttering the heart-breaking words that she did not want to die."
Posted by Terry K. at 1:14 AM EDT