CNS Unemployment Coverage Distortion Watch
Topic: CNSNews.com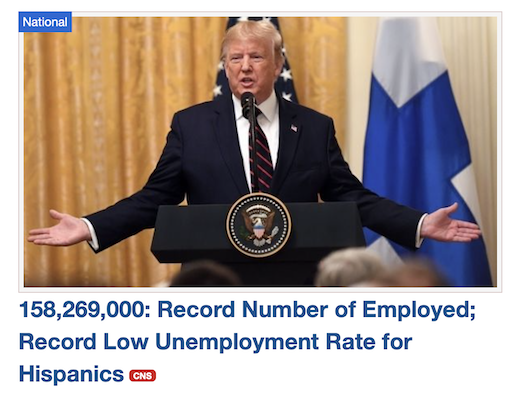 The employment numbers for September were relatively disappointing -- only 136,000 jobs created, which was below expectations. You wouldn't know that from reading CNSNews.com, though, which clung to its full-throated pro-Trump rah-rah in Susan Jones' lead story:
The work week is ending with some good news for President Donald Trump, as more records were smashed in Friday's report on September unemployment.

For the 22nd time since Donald Trump took office, the number of employed Americans reached a record high last month, climbing 319,000 from August's record 157,878,000 to 158,269,000. At the same time, the number of unemployed Americans set a Trump-era low at 5,769,000.

Those two strong numbers pushed the nation's unemployment rate to 3.5 percent in September -- down two-tenths of a point from last month, and the lowest rate since December 1969.

President Trump hailed the good news on Twitter, with a twist:

"Breaking News," Trump wrote. "Unemployment Rate, at 3.5%, drops to a 50 YEAR LOW. Wow America, lets impeach your President (even though he did nothing wrong!)."
It wasn't until the sixth paragraph thatJones mentioned the number of jobs created, and she censored the fact that analysts expected more.
The only sidebars this time around were Craig Bannister writing about how "The national seasonally-adjusted unemployment rate for Hispanics and Latinos fell to a record 3.9% in September – smashing its previous record of 4.2% in August" and Melanie Arter repeating Trump gushing over the numbers. Apparently, CNS writers were too busy spinning away impeachment efforts against Trump to devote its usual coverage to it.
Posted by Terry K. at 2:54 AM EDT