MRC's Double Standard on Praising People Later Caught In Scandal
Topic: Media Research Center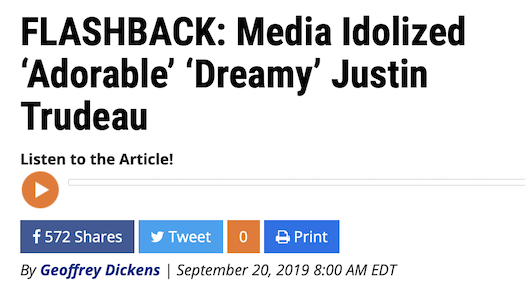 The Media Research Center's Geoffrey Dickens sneered in a Sept. 20 post:
Canadian Prime Minister Justin Trudeau may very well survive his current "blackface" scandal, because he – like Virginia Democratic Governor Ralph Northram [sic] before him – is already getting the best protection possible from his allies in the liberal media, as they focus on conservatives "pouncing" on their precious prince from the North.

On Thursday morning, MSNBC's Ron Allen seemed shocked that a "progressive" could ever be racist: "He is very progressive. To see this sort of thing happen is a head turning thing. It came out of nowhere, came as a big surprise" and noted "I can remember days when he was feted at the White House by President Obama. He is that young telegenic guy that a lot of media in Canada, and elsewhere certainly, love. So this is really quite a fall from grace. It's really quite stunning."

Indeed, the American press fell head over heels for the lefty Canadian PM when he first hit the scene in 2016. He got the pop star treatment with network anchors catching "Justin Fever" as they swooned over the "super hunky" "dreamy" and "adorable" politician they dubbed "Canada's Obama."
Dickens then listed "a few examples of the liberal media's infatuation with Trudeau, as culled from the MRC's archives." But he's not going to tell you that his employer is guilty of similarly falling for someone who later fell prey to scandal.
Aas we've documented, Alan Dershowitz was one of the MRC's favorite sources as a self-proclaimed liberal who was defending President Trump and other MRC-friendly causes. But as Dershowitz's ties to convicted sex trafficker Jeffrey Epstein became clear -- not only did serve as an attorney for Epstein, one of Epstein's victims accused him of having sex with her while she was underage -- he quietly disappeared from the pages of MRC websites with no admission of his ties to Epstein.
It seems, however, that the MRC is slowly easing into a little image rehab for Dershowitz. A Sept. 27 post by Brad Wilmouth cited Dershowitz among the "high-profile liberal professors" who have argued that the transcript of the phone call between President Trump and the Ukranian president "does not constitute proof of lawbreaking" -- his first mention at the MRC in two months. Needless to say, Wilmouth didn't mention Dershowitz's links to Epstein.
Posted by Terry K. at 3:01 PM EDT