MRC Doesn't Want To Talk About Dershowitz's Link to Jeffrey Epstein
Topic: Media Research Center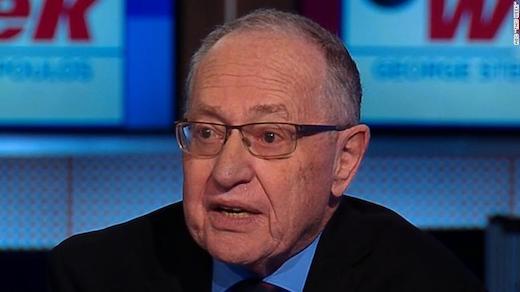 We've documented how the Media Research Center would rather not acknowledge that alleged sex trafficker Jeffrey Epstein has a documented connection to President Trump, insisting that Epstein's link to Bill Clinton is mnore important even though Clinton left office nearly two decades ago.
That distraction strategy has continued. An Aug. 12 item by Mark Finkelstein argued that MSNBC's Joe Scarborough has no business criticizing Trump for spreading the conspiracy theory that Epstein was really murdered by the Clintons and not by his own hand because Scarborough suggested that Epstein died a very "Russian" death, which Finkelstein called "bizarre" though he applied no descriptor to Trump's even more bizarre conspiracy theory. Finkelstein paraded his double standard: "Does Scarborough really think he's going to get away with this feeble flimflam of blaming Trump for something he himself engaged in? Not so long as NewsBusters is around!"
The next day, Rich Noyes ranted that network newscasts didn't identify as Democrats two politicians accused by one of Epstein's victims, Virginia Giuffre, of having sex with underage women procured by Epstein. But Noyes is engaging in his own serious omission.
Another powerful man whom Giuffre has accused of having sex with her while underage is Alan Dershowitz (who, like the other men, deny her claims), who served as an attorney for Epstein. The MRC has loved Dershowitz since he became a high-profile supporter of President Trump and conservative-friendly causes. Here are some of the Dersh-loving headlines at the MRC over the past year or so:
But as Dershowitz's link to Epstein became clear, the MRC hasn't wanted to talk about it. Indeed, it's mentioned only twice: a March 7 piece by Ryan Foley giving Ann Coulter space to whine that the Clinton-Epstein was being ignored while "irrelevant prince" Dershowitz was allowed to go on CNN to defend himself; and a July 18 item by Gregory Price that left a reference to Dershowitz buried in a transcript.
That last item, by the way, is the last time Dershowitz has been mentioned by the MRC's main content website, NewsBusters, in any context. Meanwhile, at the MRC's "news" operation, CNSNews.com -- which similarly published Dershowitz's pro-Trump defenses, including a desperate and laughable piece on him making the argument that it's no big deal to for Trump to pay hush money to porn stars because it's not a crime -- his last appearance was in a July 24 article by Susan Jones taht touted Dershowitz's attack on Robert Mueller's congressional testimony, asserting Mueller should "shut up" since he didn't indict anyone. Jones followed Dershowitz's "shut up" dictate by refusing to mention his link to Epstein.
It seems the MRC has decided to finally disappear Dershowitz rather than honestly admit that their onetime pro-Trump hero is linked to Epstein.
Posted by Terry K. at 3:01 PM EDT
Updated: Wednesday, August 28, 2019 5:11 PM EDT