Pat Boone Hypocritically Rants About Anger And Name-Calling In Politics
Topic: Newsmax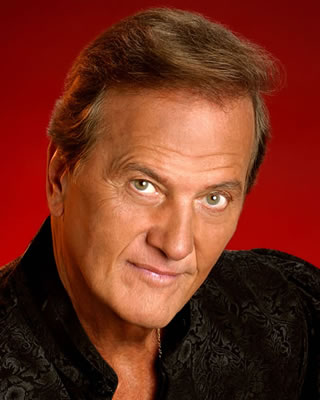 Pat Boone began his Oct. 3 Newsmax column (also published at WorldNetDaily) by claiming:
I don't usually spout off in an angry tone like this — but I'm sick and tired — up to here — with this despicable, destructive, counter-productive, nation dividing name calling and libelous, criminal charges against public servants and elected officials — with no substantiation whatever.

Our culture, particularly our political culture, has seemingly deteriorated to such an amazingly biased and uncivil level that we don't seem like America at this point!
Boone is lying -- he does, in fact, spout off in an angry, libelous, nation-dividing and name-calling tone on a regular basis. As we've documented, he particularly enjoyed doing so when Barack Obama was president. He loved to repeat lies and conspiracy theories about Obama including birtherism; one column was so filled with virulent hatred of Oama and Muslims that even Newsmax thought it was so over-the-top that it edited out the most extreme references. He mocked Supreme Court Justice Elena Kagan by suggesting she was a lesbian, claming she's an "otherwise nice woman who likes her softball,"and he declared the American Civil Liberties Union to be the "American Taliban." He even rushed to the defense of Mel Gibson after his drunken anti-Semitic rants.
Boone went on to serve up more disingenous name-calling of non-conservatives he doesn't like: Nancy Pelosi has "eyes bulging with animosity and barely concealed hatred for her president," Adam Schiff is "equally distressingly pop-eyed," ranting that "evidence, audio and visual, has been uncovered in which Adam Schiff himself is heard inviting supposed information, offered by a suspicious foreign party — the very thing he's hounding and trying to convict Trump for!"
Actually, that involved an incident in which Russian pranksters purported to offer to Schiff photos of a naked Trump -- which, actually, is quite different and not "the very thing" at all from Trump's allegedly offense of using U.S. foreign aid in a quid pro quo to seek personal favors from a foreign country.
Boone concluded his column: "The Bible soberly warns, "Judge not. For with the judgement you judge — you shall be judged." We Americans, who still have the final say, must absolutely demand that the mudslinging and mindless smearing stop … lest our blessed republic itself be smeared beyond redemption."
You first, Pat.
Posted by Terry K. at 9:02 PM EDT
Updated: Wednesday, October 16, 2019 12:37 AM EDT