Newsmax Co-Hosts Democratic Debate In Iowa
Topic: Newsmax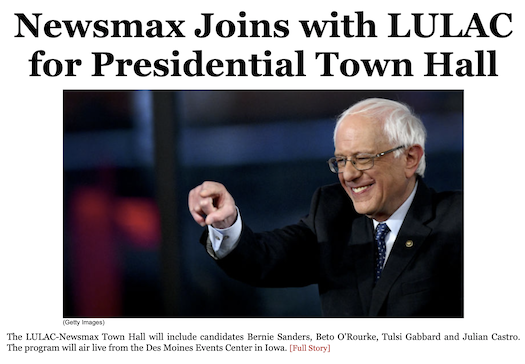 Back in 2011, Newsmax tried to host a Republican presidential debate that would have been moderated by ... Donald Trump (whom Newsmax had been building up as a possible presidential candidate). Even with a former CNN executive producing the debate and a motley group of conservatives endorsing it (Steve King, anyone?), doubts about whether Trump would keep his word to endorse the Republican nominee and not run as a third-party candidate kept candidates away (only two committed to taking part) and the debate was canceled.
Now, Newsmax is putting together something a little smaller in scale: a town hall in Iowa this week for Democratic presidential candidates co-sponsored by a libera-leaning Hispanic group.
An Oct. 18 Newsmax by Bill Hoffman article proclaimed:
On Thursday, October 24th, Newsmax TV and League of United Latin American Citizens (LULAC) will co-host a two-hour Presidential Town Hall meeting featuring top Democratic candidates vying for the party's nomination.

The LULAC-Newsmax Town Hall will include candidates Bernie Sanders, Beto O'Rourke, Tulsi Gabbard and Julian Castro. The program will air live from the Des Moines Events Center in Iowa.

The Town Hall will begin at 8 p.m. ET, and Newsmax will air a pre-Town Hall starting at 7 p.m. ET. The program will open with a message from Domingo Garcia, LULAC's national president. The co-moderators for the Town Hall will be Newsmax TV's John Bachman and Spectrum News 1's Annette Garcia.

This Presidential Town Hall will focus on issues of importance to all Americans and the impact policies will have for Hispanic voters in Iowa and across the nation.

The event is expected to draw more than 800 people, and will be attended by more than 500 eligible and registered Latino voters from the Des Moines area. Iowa is the home to an estimated 73,000 Latino voters.

Because none of the questions directed to the candidates are known in advance, the Presidential Town Hall promises to be lively and unpredictable, and a potential game-changer in the Democrats' quest for their nominee.
Hoffman also did a follow-up interview with LULAC president Domingo Garcia playing up how the town hall "will show Americans that the Latino vote is truly up for grabs."
The stakes are a bit lower this time -- it's earlier in the primary process than its 2011 attempt, and it has a partner different enough from Newsmax to at least plausibly claim some bipartisan motive. (Fun fact: LULAC's Iowa chapter called for King's resignation over his "many years of hateful, divisive and racist statements.") Still, only four candidates, all of whom (with the possible exception of Sanders) are considered lower-tier, have signed on.And Newsmax TV is not exactly a broadcasting powerhouse, though perhaps a better choice than its 2011 broadcast partner, the sparsely watched ION Television.
But low stakes come with low expectations, and this might just be the best way for Newsmax to learn how to do one of these things.
Posted by Terry K. at 9:03 PM EDT
Updated: Monday, October 21, 2019 9:20 PM EDT