Newsmax Columnist Calls For Pardon of Newsmax Friend Kerik
Topic: Newsmax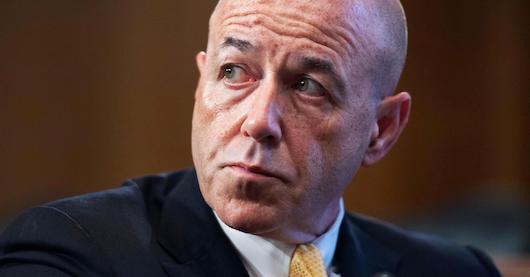 Newsmax has been a longtime friend of Bernard Kerik. After the former New York City police commissioner was busted on various issues unbecoming of a police commisioner -- an affair with his book editor (and others), mishandling of taxpayers' money, links to a mob-controlled construction company and nanny problems among them -- it attempted an image rehabilitation campaign for him even as he was sentenced to prison for his crimes. In more recent years, Newsmax made Kerik a columnist and even published a novel he wrote under its Humanix Books imprint (while not telling its readers about the conflict of interest).
Now, it appears that Newsmax has one more bit of image rehab to do for Kerik: Get President Trump to pardon him.
Wayne Allyn Root made a naked appeal to that effect in his Sept. 19 Newsmax column:
[M]y friend Bernie Kerik served his country with honor and valor for over 30 years. He's saved victims from burning buildings, been shot at, stabbed, survived the largest terror attack in U.S. history and a bomb plot aimed at him.

My friend Bernie served as one of the most decorated cops in the history of the NYPD, undercover drug detective, former leader of the U.S. Justice Department's New York Drug Enforcement Task Force, ran the largest jail system in America, and the largest police department.

As the 40th Police Commissioner of the city of New York, Bernie was responsible for 55,000 civilian and uniform personnel, and a $3.2 billion budget.

Bernie was one of the founding members of the Board of Trustees of the Twin Towers Fund, which raised and distributed $216 million to the families of emergency service workers killed on 9/11.

But my friend Bernie was an enemy of the D.C. Swamp. He was targeted for destruction and his life was ruined. He eventually pled guilty to false statements and tax charges that all started with failing to pay payroll taxes to his children's nanny.

America's Top Cop and 9-11 hero went to prison, spent time in solitary, served his probation, and in the aftermath, became one of the most aggressive proponents nationwide for criminal justice reform.

If ever there was a perfect candidate for a pardon, it's Bernie Kerik, American hero. If ever there was a perfect moment to do it, Mr. President, that moment is now. You have the momentum, you have the American people's support.

Mr. President, please pardon my friend Bernie Kerik.
Note that Root is playing the right-wing victimization card by claiming Kerik was "targeted for destruction." He seems to forget that if Kerik hadn't done what he confessed to doing in a court of law, there would have been no reason that any campaign to "target" him would be successful; Kerik ruined his own life, not anyone else.
As a further sign that a pardon for Kerik may very well be corporate policy, Newsmax CEO Christopher Ruddy retweeted Root's column with the message: "Wayne is right: Bernie Kerik is an American hero, he deserves a pardon! Please read and share ..."
Remember that Ruddy is a close buddy of Trump, and Trump's pardons are influenced in part by his friends. That would seem to mean Kerik has a better chance of getting pardoned than he might otherwise.
Posted by Terry K. at 10:08 PM EDT
Updated: Wednesday, October 2, 2019 10:17 PM EDT