MRC Skips From States' Rights To Abortion -- In A Post About Pollution
Topic: Media Research Center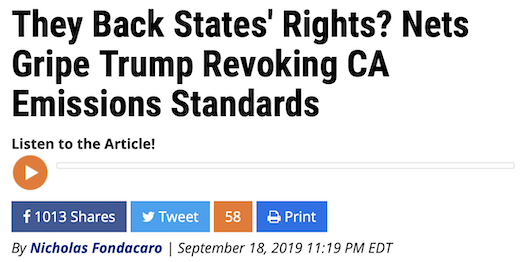 The Media Research Center's Nicholas Fondacaro groused in a Sept. 18 post:
The same networks that banded together to bully pro-life states earlier this year after they passed sweeping legislation to protect the life of unborn children, spent Wednesday evening whining about President Trump threatening to revoke California's self-prescribed emissions standards in favor of a national standard.

ABC, CBS, and NBC were up in arms following a tweet from the President. "Next, this evening, President Trump and a new feud with California tonight, telling that state it cannot set its own emissions standards, revoking that state's rightnto set its own limits for cars and trucks," declared ABC's World News Tonight anchor David Muir.

That network even had the nerve to play a sound bite of California Attorney General Xavier Becerra (D) proclaiming: "Our message to those to claim to support state's rights, don't trample on ours."
Of course, Fondacaro doesn't mention his own sudden disdain for states' rights -- a bedrock conservative principle -- since that would expose how he (and the MRC) have put loyalty to Trump ahead of any coherent conservative policy advocacy.
Meanwhile, Fondacaro wasn't done ranting about abortion in a post that had nothing to do with it. After noting that a CBS corresponded repeated a "dubious claim" by California officials that the state's stricter emission standards prevented 29,000 premature deaths a year -- a less dubious claim, we would argue, than his completely false assertion that a documented gun-death statistic he didn't like was an "absolute lie" -- he concluded with a whataboutist huff: "Speaking of premature deaths, abortions killed close to an estimated one million unborn children every year. Meanwhile, the networks treated the nationwide proliferation of pro-life legislation as a scourge that was plaguing the country."
Posted by Terry K. at 10:11 PM EDT