CNS Promotes Right-Wing Lies About U.N. Pact
Topic: CNSNews.com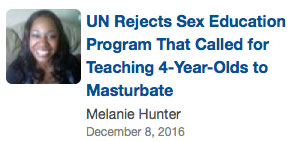 CNSNews.com's Melanie Hunter certainly put out a clickbait-y headline for her Dec. 8 article: "UN Rejects Sex Education Program That Called for Teaching 4-Year-Olds to Masturbate." She writes:
The United Nations last week rejected a controversial sex education program by Europeans and the World Health Organization (WHO) in its draft resolution for the General Assembly's "Rights of the Child" resolution, the Center for Family and Human Rights (C-FAM) reported on Dec. 1.

The programming, which "first found its way into a UN resolution in 2012 within the Economic and Social Council," called for teaching children under age four about "early childhood masturbation" and promoting "acceptance of homosexuality and transgenderism throughout primary school."
Hunter's proof for this clickbait-y claim claim is a C-FAM article that she has essentially rewrote, which asserts that "European and World Health Organization standards for comprehensive sexuality education prescribe teaching children under 4 years old about 'early childhood masturbation."
If Hunter had bothered to fact-check C-FAM's claims -- she quotes only C-FAM in her article, meaning that once again she's serving as a stenographer instead of a reporter, and she doesn't disclose that it's a far-right group that best known for being vehemently anti-gay -- she would know that it's lying about the clickbait-y thing.
C-FAM is apparently referring to a report by WHO and the Federal Centre for Health Education in Germany noting that "early childhood masturbation" is a behavior young children engage in and that "extensive observational research" shows this is among the behaviors that is "regarded as normal." A "matrix" chart later in the document lists it as something educators can "give information about," defined as "facts from the field of sexuality education in a balanced, comprehensive, age-appropriate way." At no point does it state that 4-year-olds should be taught masturbation.
WHO further issued a Q-and-A clarifying the issue:
This information is addressed to professionals (e.g. teachers, including kindergarten teachers), who need to be informed about the variety of normal phenomena in the psychosexual development of children including, in fact, early childhood masturbation and "doctor" games. Without such knowledge, there is a risk that professionals will react in inappropriate ways, possibly harming the child and/or hindering his/her future healthy development. The Standards therefore inform professionals about how to deal with these phenomena in a high-quality sexuality education programme in a developmentally appropriate way.
C-FAM is a highly biased organization, and Hunter and CNS should not be uncritically reporting its claims as undisputed truth -- especially when a little basic fact-checking proves the group wrong. But then, CNS is not paying Hunter to fact-check the claims of right-wing groups.
Posted by Terry K. at 5:41 PM EST