MRC Complains Media Is Accurately Reporting About Ben Carson
Topic: Media Research Center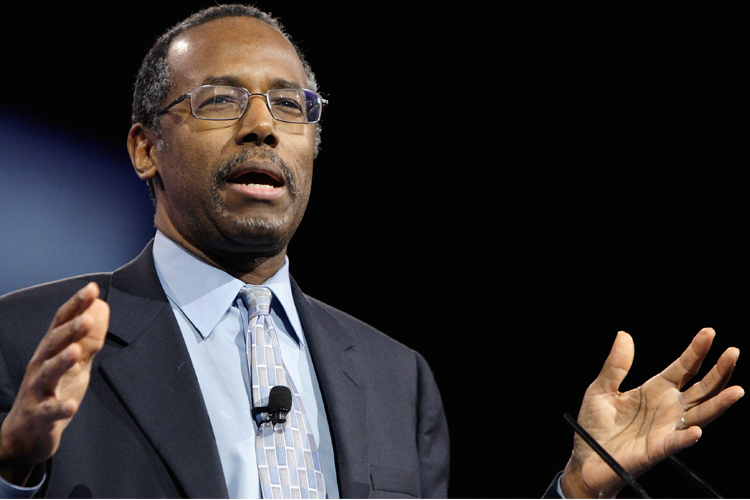 The headline of Media Reserarch Center writer Sam Dorman's Dec. 5 post reads, "Media Predictably Mock Trump's HUD Secretary Pick Ben Carson." He goes on to huff: "After Donald Trump chose former presidential candidate Ben Carson to lead the Department of Housing and Urban Development (HUD), journalists ridiculed the choice, mocked Carson's beliefs and labeled him a 'scammer.'"
But Dorman's doing a lot of dishonest things here. First, he's conflating opinion writers with "journalists" -- most of the people he cites are opinion writers, not reporters.The closest he gets is Michael Powell of the New York Times, but he's a sports columnist, which means he's still allowed to voice an opinion.
Second, he actually lumps together "media figures from lefty Think Progress, Huffington Post, NBC News and others" as if they were interchangeable. And, again, all of them are opinion writers or commentators who get paid to offer an opinion.
Third, much of the criticism Dorman cites is fact-based. Does Dorman really think it's "liberal bias" to point out that Carson has no professional experience in housing or urban development.
Dorman also complained that New York magazine's Jonathan Chait called Carson a "world-class scammer," but didn't mention that Chait offered proof of that in the article to which he links in the Twitter post Dorman cites. That would be an article in The Atlantic noting how Carson's presidential campaign spent massive amounts of money paying marketing firms to raise money, suggesting that Carson was more interested in building a personal brand and a donor base than actually running for president.
Finally, Dorman doesn't actually dispute any of this -- he's only complaining that it's being talked about. Apparently Dorman has absorbed the part of MRC researcher school that teaches anything that appears in the media you don't like -- even if it's true or said by someone paid to offer opinions -- is "liberal bias."
Posted by Terry K. at 12:24 AM EST