MRC's Bozell Still Trying to Deflect Fake-News Controversy
Topic: Media Research Center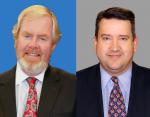 You'd think an organization that purports to care about issues in the media would want to have a substantive debate about fake news. But as the Media Research Center continues to prove, it doesn't.
As before, Brent Bozell and Tim Graham's Dec. 7 column on the subject is all about trying to change the subject. They began by declaring: "Facebook boss Mark Zuckerberg is under enormous pressure from the left to crack down on the "fake news" circulating on the social-media giant. He is well-advised to run as far as he can from the News Police."
They don't mention that Bozell himself was part of the right-wing News Police that victimized Zuckerberg and Facebook earlier in the year over alleged bias in Facebook's trending-news feed. So cowed was Facebook by this that it allegedly did nothing to stop the torrent of pro-Trump, anti-Hillary fake news that swamped the website lest it run afoul of Bozell's News Police again.
Bozell and Graham then proclaimed that the problem of fake news is 1) no big deal and 2) a creation of the left:
Make no mistake about it: Fake news does exist. Everyone is used to false click-bait, like the recent "Megyn Kelly leaving Fox?" story floating around the internet, which claims she's leaving to promote some blah-blah-blah skin care product. Then there are the offshore fake news factories churning out "shocking" reports about Pope Francis backing Donald Trump.

Are these annoyances? Yes. Are they threats to Western civilization? Hardly.

The left saw an opening with talk of fake news and pounced.

[...]

Are the red flags for fake news only going to target stories that upset liberals? The leftist group Media Matters for America is claiming it will de-emphasize its Fox News obsession to focus instead on websites like Breitbart and the "alt-right" platforms in an effort to be that "trusted third party" to help run Facebook's algorithms.

Do you think they would ever call out leftist fake news outlets like, oh, themselves?
Bozell and Graham provide no evidence that any Media Matters ever produced is "fake news." (Disclosure: We used to work there.) But the MRC has participated in a few fake-news stories: its promotion of the fake Fox News story just before the election that Hillary Clinton's indictment was imminent, its dishonest misquoting from a book by former New York Times editor Howell Raines that stood uncorrected for nine years, and the deliberate misquoting of Democratic strategist Paul Begala at the MRC's "news" division, CNSNews.com.
Yet somehow it's the fault of "the left" that the MRC perpetuated fake news.
Bozell and Graham also assert: "The networks have labored mightily to avoid videotapes demonstrating Planned Parenthood allegedly sold dead baby parts to fetal-tissue researchers. The left said those taped admissions are somehow faked, even after all the footage, which shows no such thing, was made available." In fact, it's been repeatedly proven that the edited versions of the video make claims the full videos (which were always released after the edited versions) don't support. Even David Daleiden, who produced the videos, admitted to deceptive edits.
What does it say that "the networks" downplayed deceptively edited videos while the MRC treats them as indisputable gospel? That the MRC will embrace fake news that furthers its right-wing agenda.
But that truth is a little too real for Bozell and Graham to admit to its readers.
Posted by Terry K. at 1:43 PM EST