What LGBT Stuff Is The MRC Freaking Out About Now?
Topic: Media Research Center
T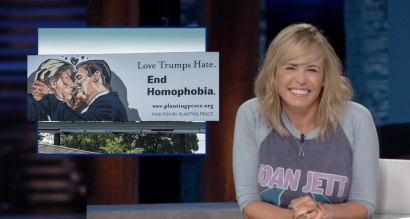 here's been so many anti-LGBT freakouts at the Media Research Center lately, we couldn't wait another whole month to catch them all. So what are they on about now?
Karen Townsend doesn't like that Chelsea Handler did an episode of her Netflix show that "was an ode to all things "queer" – lesbian, gay and transgender, in particular."Handler noted a a report finding millennials to be the "gayest generation in history," commenting that she'd like to "thank the greatest generation for storming beaches in Normandy so that we could storm the beaches of Fire Island." Needless to say, Townsend hated that too: "Yeah, that's about as far as American patriotism goes for lefties. How sad."
Melissa Mullins harrumphed about a "completely lopsided article" in Teen Vogue "on a 16-year-old transgender student from Kenosha, Wisconsin who is suing her school because she wasn't allowed to use the boys' bathroom." Mullins ranted at thewriter of the article: "Did you ever consider the school administration is keeping [transgender student] 'Ash' safe because if they did allow 'him' to use the boy's restroom, 'he' may be bullied, abused, or even worse…raped? So yeah, there's a legitimate reason why the administration is doing this. Why not give both sides of the story?" As if the MRC is genuinely interested in being fair and balanced -- look at its "news" operation.
Eliot Polsky whines that a YouTube promo ad includes a transgender person going on to grumble that "you can express your identity unless you're a straight white man. Bigots like them better not use YouTube Music."
Maggie McKneely geared up for a cartoon-related freakout:
Here's the latest step in the trans agenda, coming to a book store near you.

Meet Chalice, the world's newest transgender superhero. The dude dressed in a miniskirt is set to be the central hero in the Alters series, a comic ironically about societal outcasts who end up with superpowers.

Most superheroes only have to conceal one secret identity. But Chalice makes his life more difficult by having to conceal two. Chalice is actually a male college student named Charlie Young, but begins transitioning to female, unbeknownst to his parents. One of his brothers has cerebral palsy and Charlie is afraid his gender crisis might further upset his family. Yeah, no kidding.

[...]

In a slap at the current bathroom debate, the debut issue of Alters, which hits shelves next month, will have a special surprise for its North Carolina readers. Although in the other 49 states the series cover will feature a profile of Chalice, in NC the front picture will be of Chalice sending greetings from the statehouse.

But as author Jenkins said, Chalice's story isn't meant to be political commentary. Nothing liberals do ever is.
McKneely would almost certainly deny that her anti-trans screed is political commentary.
McKneely also rants about Huffington Post writer James Michael Nichols claiming that gays shouldn't vote for Donald Trump, huffing, "Whatever happened to white men not imposing their views on everyone else, Mr. Nichols? Shouldn't people be allowed to vote for whoever they want to?"
Finally, McKneely has a fit about the second season premiere of the anti-Catholic Real O'Neals" airing on October 11, National Coming Out Day, as well as the show's announced guest stars, "all of whom are gay."
Posted by Terry K. at 3:06 PM EDT