Right-Wing Rabbi Defends White Nationalism at CNS, Doesn't Care Much About Facts
Topic: CNSNews.com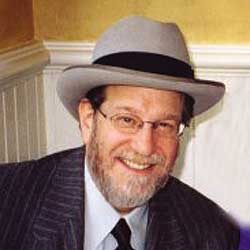 We've called Aryeh Spero the Jewish Bradlee Dean because of his propensity to lie and mislead -- despite presenting himself as a man of God -- to further the right-wing political agenda he's pushing (that, and the shared Obama derangement).
In a Nov. 17 CNSNews.com column, Spero defends Breitbart's Steve Bannon with a bunch of ranting about the "alt-left" (whatever that is; Spero never explains what it is) and unsupported claims that ultimately go from denying Bannon is associated with white nationalists to defending white nationalism:
The ADL (Anti-Defamation League) this week accused Mr. Bannon of anti-Semitism because, in their words, he is associated with nationalistic movements and anti-Semitic white supremacist groups. I have seen no credible evidence that he is associated with any anti-Semitic groups, though he is, like me, an American nationalist. In its founding years, the ADL's mission was to fight anti-Semitism, but in the last few decades it appears to have, like other establishment Jewish organizations, become an ideological arm of the Democrat party, carrying its water for them, and viewing all of American life through the prism of a neo-Leftist agenda no longer rooted in classical liberalism.

Thus, for them, as seen in their publications, the innocuous term "western values" becomes a code phrase for excluding non-whites, and the term America First becomes a racist code phrase. To most Americans, however, putting America and its citizens first is the most natural thing a nation should try doing— be it regarding jobs, physical security, or pride in America's historic outlook and values, in this case our founding principles and Judeo-Christian ethos.

While the ADL considers the predilection towards nationalism a disguised attempt to exclude or persecute Jews and others, to most sane people, nationalism is pride in one's country and her values, which in America's case is something to indeed be proud of. Loving one's country, its western values, or pride and comfort in one's ethnicity or race (even if white) are not disqualifying features in a human being.

Those who see in American individuals proud of their Christian faith or their European ancestry people to be feared are themselves either very insecure or harbor a bigotry and discomfort with those in the majority. Truth be told, in liberal establishment organizational circles the feeling is that nobility and fair-mindedness resides only in minority communities while the majority, in this case Christian and whites, are automatically suspect unless they prove otherwise, with advocating liberalism and cultural self-effacement as their only redeemable option.
Spero doesn't know his history, does he? The reason why people consider "America First" a "code phrase," in Spero's words, is because that's pretty much what it was. The America First Committee was an isolationist group seeking to keep the U.S. out of World War II. But as college professor Susan Dunn writes at CNN:
Seeking to brand itself as a mainstream organization, America First struggled with the problem of the anti-Semitism of some of its leaders and many of its members. It had to remove from its executive committee not only the notoriously anti-Semitic Henry Ford but also Avery Brundage, the former chairman of the U.S. Olympic Committee who had prevented two Jewish runners from the American track team in Berlin in 1936 from running in the finals of the 4x100 relay.

Still, the problem of anti-Semitism remained; a Kansas chapter leader pronounced President Franklin Roosevelt and Eleanor Roosevelt "Jewish" and Winston Churchill a "half-Jew."

After Pearl Harbor, the America First Committee closed its doors, but not before Lindbergh made his infamous speech at an America First rally in Des Moines, Iowa, in September 1941. After charging that President Roosevelt had manufactured "incidents" to propel the country into war, Lindbergh proceeded to blurt out his true thoughts.

"The British and the Jewish races," he declared, "for reasons which are not American, wish to involve us in the war." The nation's enemy was an internal one, a Jewish one. "Their greatest danger to this country lies in their large ownership and influence in our motion pictures, our press, our radio, and our government," he contended. Booing began to drown out the cheers, forcing him again and again to stop, wait out the catcalls, and start his sentences over.

Lindbergh's unambiguous message was that Jews living in the United States constituted a wealthy, influential, conspiratorial foreign "race" that had seized "our" media and infiltrated "our" political institutions. They were the alien out-group, hostile to "us."

He put American Jews on notice that America's "tolerance" for them rested upon a fragile foundation.
Spero also repeats the malicious slander that George Soros was in "collaboration with the Nazis in Hungary during WW II."
Spero further whines that critics of Trump "have not, and will never genuinely accept the results of the election" -- ironic because it's obvious Spero never accepted the election of President Obama.
Posted by Terry K. at 4:47 PM EST