CNS' Starr Keeps On Shilling for the Oil Industry
Topic: CNSNews.com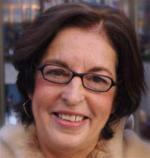 CNSNews.com reporter Penny Starr has long been a reliable shill for the fossil-fuel industry, as one would expect from an employee of an organization that gets significant funding from fossil-fuel interests and has an endowed fellowship named after oilman T. Boone Pickens.
She's at it again. Starr writes in a Nov. 22 CNS article:
President Obama's Interior Department announced last week that no offshore leases for oil and gas development in Alaska will be granted for a five-year period, prompting criticism that the decision could have a detrimental effect on local communities.

Lucas Frances, a spokesperson for the Arctic Energy Center (AEC), called the decision a "body blow" for the communities.

"Today's announcement is a body blow for the Native communities, businesses, elected officials, military experts and other Alaskans who repeatedly have pleaded with the White House to allow offshore energy development in the Arctic," he said in statement after the decision was announced on Friday.

"Having been told that local views would take priority, they have now seen that the exact opposite is true and their wishes have been ignored in the name of legacy-building," he said.

"As a result of this decision, people across Alaska will be looking to the Trump administration to quickly tear up the lease plan and implement an entirely new schedule, which includes the Arctic and helps secure the state's future."
Starr makes sure not to disclose that the Arctic Energy Center is not a local grassroots group but, rather, an advocacy group for the oil industry founded by the Independent Petroleum Association of America and the Alaska Oil and Gas Association. The center claims that part of its mission is to highlight " long history of exploration and development in the region, and the scientific and technological advancements that allow for safe energy development today." In September, it launched a PR campaign to build support for offshore drilling in the Arctic that was scheduled to include a "six-figure television buy" in the Washingtion, D.C., TV market.
Starr also quoted one of her favorite industry sources, the American Petroleum Institute, criticizing the lease decision as well.
Unusual for her, Starr actually balanced the story with a statement from the environmental group EarthJustice. But she showed her bias again by labeling it as an "activist group" -- a descriptor she did not apply to the Arctic Energy Center though it too is activist (as if a six-figure TV ad buy isn't activist).
Posted by Terry K. at 2:18 PM EST