WND Complains About Trump Impeachment Talk -- But Promoted Hillary Impeachment A Year Ago
Topic: WorldNetDaily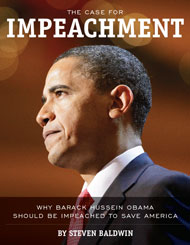 Joseph Farah rants in his April 19 WorldNetDaily column:
Amazing!

Barack Obama has defied the Constitution in dozens of ways since swearing an oath to uphold and defend it on Jan. 20, 2009 – maybe hundreds.

He has, by his own admission, exceeded his executive authority to rewrite laws, defy laws and neglect his responsibility to enforce laws.

Pledging the most "transparent administration in history," his administration has been characterized by secrecy and stonewalling.

Before his first term was even finished, it took an entire book to catalogue the "Impeachable Offenses" he had committed.

Yet, no matter what he did in his campaign pledge to work toward "the fundamental transformation of America," the Republican Congress gave him all the money he need to accomplish his objectives – even if was borrowed from future generations. The Republicans never even considered impeachment. In fact, they took if off the table early in the first term.

Yet before Donald Trump even gets the presidential nomination of the Republican Party, there are already forces in the Washington establishment – including some Republicans – talking about impeachment!

[...]

Who's talking about impeachment more than six months prior to the election and months ahead of the convention that will nominate a Republican candidate?
First, that "entire book" to catalogue the purportedly "Impeachable Offenses" Obama had committed was utterly laughable and filled with factual errors and outright falsehoods.
Second: Who was talking about impeachment more than 18 months prior to the election and months ahead of the convention that will nominate a Democratic candidate? WorldNetDaily.
In May 2015 (!), WND's Cheryl Chumley touted an effort to impeach Hillary Clinton even before the election:
Special Operations Speaks PAC, an organization to educate Americans about threats to the United States, has started a petition to impeach Hillary Clinton – and so far, nearly 31,000 have signed.

"Fact is, congressional precedent dictates that all elected officials remain subject to impeachment and disqualification from holding office even after resignation," SOS said, on its website.

As such: the PAC says Clinton must go.

Just in time for the 2016 election, hear Hillary Clinton say she would NOT run for president, in "Hillary Unhinged" by Thomas Kuiper.

"[SOS] is calling on the United States Congress to impeach former Secretary of State Hillary Clinton for 'high crimes and misdemeanors' pursuant to Article II, Section 4 of the Constitution of the United States."

The organization lists three reasons to impeach Clinton. First, she "absented herself from the besieged in Benghazi on September 11, 2012, costing four American lives."

Second: "As Secretary of State, Hillary Clinton received, through the Clinton Foundation, emoluments from foreign governments, despite Article 1, Section 9, which proscribes the reception of foreign 'gifts' by U.S. officials without the express consent of Congress."

And third: The groups decried Clinton's "unlawful" storage of official secretary of state emails on a private email server set up in her New York home, calling it a "detriment of national security" and a violation of the Freedom of Information Act.
That's right: WND promoted an effort to impeach Hillary Clinton before the election. And Farah is complaining about a proposed impeachment of Donald Trump that wouldn't take place until after he takes office?
Posted by Terry K. at 8:47 AM EDT