MRC Plays the Deceptive-Editing Game
Topic: Media Research Center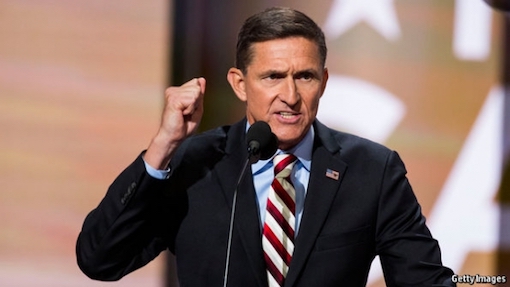 The Media Research Center's Brad Wilmouth complains in a Dec. 1 post that "CNN's Alisyn Camerota brought up a clip of Lieutenant General Michael Flynn discussing radical Islam in which it appeared that he was claiming Islam in general is a 'cancer.'"
In fact, Camerota is portraying the clip accurately. In a larger clip of the statement in question, Flynn doesn't apply the narrower "radical Islam" Wilmouth is suggesting, Flynn is clearly stating that "Islam is a political ideology" and goes on to liken Islam -- not "radical Islam" -- to cancer.
Looking at a even larger part of the Flynn speech from which that statement was taken, he does not appear to differentiate between "radical Islam" and Islam as a whole -- he even suggests that Muslims getting involved in local government in the U.S. is a directive from Muslim extremists.
Flynn also falsely claimed in his speech that Democrats in Florida "voted yes to allow Sharia law to be used in the state of Florida judicial system," adding, "Do these people not understand what Sharia law is, what it does to these beautiful women? ... You're a piece of property." In fact, the Florida law simply codified existing policy in allowing foreign law to govern certain family cases only if it does not contradict U.S. law, and it does not specifically mention Sharia law at all.
Does that sound like someone who makes a meaningful difference between "radical Islam" and Islam as a whole? Wilmouth seems to think differently.
Then, Wilmouth flip-flops by defending taking President' Obama's words out of context:
Ironically, moments after using an edited clip of Flynn, the CNN host was seen reading and appearing to agree with complaints -- which seem to have come from an article at Mediaite -- that Fox Business Network edited some of President Barack Obama's words from an interview in which the President -- even with the words in place -- left an impression with many that he was encouraging illegal immigrants to vote, in spite of it being illegal for non-citizens to do so.
Why is it OK to misrepresent Obama's words, according to Wilmouth? Because Obama didn't make his words clear enough for Wilmouth not to exploit the ambiguity, apparently:
The Mediaite article Camerota was reading from argued that it was obvious that Obama was not encouraging illegals to vote because of the part of his answer when he stated that "when you vote, you are a citizen yourself." But this statement is not the same as stating that if one is a non-citizen, it is illegal to vote, since, if someone were unfamiliar with American law, they could misunderstand and believe voting can be a way of becoming a citizen.

His response could certainly have been misinterpreted as meaning that non-citizens like "Dreamers" and the "undocumented" could vote because they were a major part of the question asked, which should have elicited an upfront reaction in the negative that those groups should not be voting.
So Wilmouth and his fellow conservatives seem to feel free to misrepresent Obama's words because he didn't give an answer worded in exactly the way they wanted him to -- ignoring the full answer from Obama, in which he also said that "what is important for Latino citizens is to make your voice heard" and that those citizens voting helps speak for those "who can't legally vote."
The MRC has always felt justified in taking Obama's words out of context if doing so fits its political agenda.
Posted by Terry K. at 8:29 PM EST