CNS Touts Mel Gibson's 'Passion' Sequel Work, Silent On Gibson's Anti-Semitism
Topic: CNSNews.com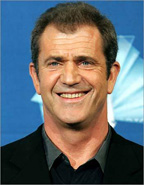 Mark Judge waxes enthusiastic about Mel Gibson's new film project in a June 10 CNSNews.com blog post:
The Hollywood Reporter is reporting that Mel Gibson and writer Randall Wallace are working on a sequel to the 2004 blockbuster "The Passion of the Christ."

"The evangelical community considers 'The Passion' the biggest movie ever out of Hollywood," Wallace told the Hollywood Reporter, "and they kept telling us they think a sequel would be even bigger."

The Reporter's Paul Bond writes that Wallace, who recently directed and co-wrote 2014's "Heaven is for Real," says he and Gibson "began to get serious about a sequel to The Passion, the most successful independent film of all time, while making Hacksaw Ridge, which Gibson directed and Wallace co-wrote. Hacksaw Ridge opens in November and centers on World War II Army medic Desmond Doss, the first conscientious objector to be awarded the Congressional Medal of Honor."

There is no studio or financial backing lined up for the "Passion" sequel, which is still in the early script stage. "The Passion of the Christ" made $612 million on a $30 million budget.
That's the entirety of Judge's post. Notice something missing? You know, like Gibson's history of ugly anti-Semitism (not to mention an even uglier breakup with his mistress) and the fact that "The Passion of the Christ" has itself been credibly accused of being anti-Semitic?
Needless to say, the Media Research Center has a double standard on not mentioning the unseemly history of entertainers. In January, MRC chief Brent Bozell and his deputy Tim Graham marked David Bowie's death by complaining that the media was ignoring stories of Bowie bedding underage groupies, lamenting that "David Bowie died to universal acclaim, even from a star-struck Vatican newspaper." Bozell and Graham whined about how "the secular news industry in New York and the social justice warriors in Hollywood pour outrage all over the predatory Catholic priests who abused children in this same era of sex and drugs and 'revolution,' the rockers and the filmmakers plowed their way through a polyester playground of high-school groupies exploiting their 'star privilege.'" Never mind that Bozell and Graham have given that very pass to right-wing icon and underage groupie-bedder (and underage groupie-marryer) Ted Nugent.
It looks like Gibson will get a pass on his notorious past from Judge and the rest of the MRC simply because he made a popular religious movie.
Posted by Terry K. at 1:53 PM EDT