MRC Still Won't Be Honest About 'Fake News'
Topic: Media Research Center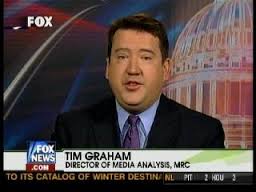 The Media Research Center is not done trying to change the subject away from the issue of "fake news" that may have helped Donald Trump get elected president.
A Nov. 28 post by Tim Graham freaks out over a Washington Post article on the group PropOrNot accusing the Russians of planting misleading article boosting Trump and bashing Hillary Clinton that were picked up by many right-wing (and some left-wing) website.Graham cites criticism of PropOrNot from the left-wing sites it named, complaining that the group is biased against Russia and Trump's ties to it and "are promoting bizarre conspiracy theories using overwrought numbers from a source that won't identify its own authors or funders."
Funny, we don't recall the MRC having a problem with the anonymous basis of the false Fox News pre-election story claiming an indictment of Clinton was imminent that it heavily promoted. Still, Graham ranted that the PropOrNot claim is an "anonymously-sourced conspiracy theory" -- something it has never admitted the Fox News story was.
Mesnwhile, the MRC's Scott Whitlock attempted to redefine fake news in a Nov. 29 post:
ABC's Nightline, a program that has covered such non-stories as "bootleg butt injections" and "cat poo coffee," actually complained about "fake news" websites. Co-anchor Juju Chang on Monday huffed that "established media outlets are built on accuracy" as she wondered if scam websites resulted in Hillary Clinton losing.

[...]

Nightline journalists are in no position to judge ridiculous stories. This is a program that in 2014 actually did a story on "bootleg butt injections." In 2015, the show's reporters covered "cat poo coffee." The show also looked into "polyamory" and the "trailblazing triad" of threesome fans. Is this news?

On Monday night, Chang complained, "Separating fact from fiction is not easy when mistrust of mainstream media is at an all-time high." Perhaps one reason for that is because Nightline is promoting ridiculous click bait stories.
No, Scott, fluffy news is not fake news. Fake news is the false Fox News story your employer promoted and has never admitted was false, let alone apologized for it.
Posted by Terry K. at 12:45 AM EST