CNS Still Plugging Mel Gibson, Hiding His Ugly Past
Topic: CNSNews.com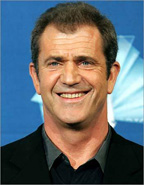 CNSNews.com "blog reporter" Mark Judge must really love Mel Gibson a lot to censor news of his anti-Semitic, woman hating past.
We've detailed how Judge makes a habit of promoting Gibson's new and upcoming film projects while remaining silent about Gibson's ugly personal history -- something his Media Research Center co-workers would criticize if it involved someone in the "liberal media." But Gibson made "The Passion of the Christ," so he apparently gets a free pass.
Judge strikes again in an Aug. 31 post:
The Christian Post is reporting that Mel Gibson recently addressed rumors that he is making a sequel to his 2004 blockbuster "The Passion of the Christ."

Appearing Sunday as a surprise guest at the Christian gathering SoCal Harvest in Anaheim, California, Gibson was asked by Pastor Greg Laurie about the rumors of a sequel – and that the film would be written by Randall Wallace, who also penned Gibson's Oscar-winning epic "Braveheart."
Once again, there's no mention of Gibson's ugly past. But Judge made sure to work in a plug for Gibson's "upcoming film 'Hacksaw Ridge' about Desmond Doss, a pacifist medic in World War II who saved as many as 75 soldiers during the Battle of Okinawa. It releases November 4."
Priorities!
Posted by Terry K. at 3:47 PM EDT
Updated: Friday, September 9, 2016 3:48 PM EDT