Hillary Derangement Syndrome, David Kupelian Edition
Topic: WorldNetDaily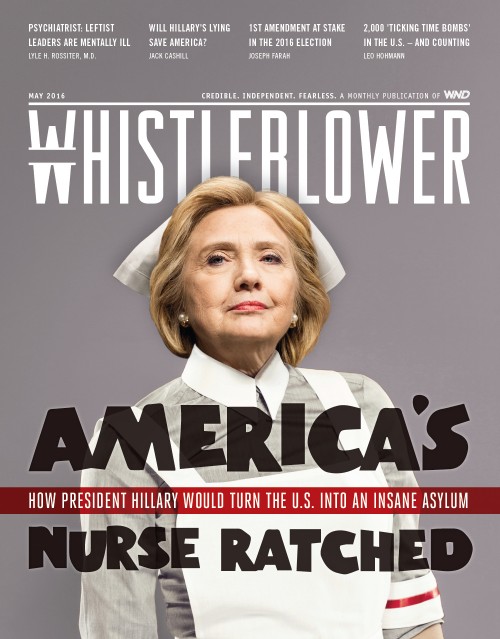 Last month, WorldNetDaily's Whistleblower magazine devoted an entire issue to hating Hillary Clinton to the point of portraying her as Nurse Ratched from "One Flew Over the Cuckoo's Nest." WND has now taken David Kupelian's title essay out of the barely-read magazine and shared it on the WND website. And Kupelian brings his full measure of Hillary derangement to the endeavor:
Make no mistake, today's Democratic Party is untethered to reality: With ISIS crucifying children overseas and mass terrorism in the American homeland on everyone's mind, with U.S. joblessness through the roof in a disintegrating economy, with wide-open borders and absurdly reckless immigration and refugee policies transforming America in unthinkable ways, the Democrats' most urgent national issue seems to be making sure men are allowed to use women's bathrooms, locker rooms and showers.

But what about the woman who may shortly become president? There are some obvious parallels to Kesey's fictional tyrant nurse: Hillary Clinton – from her days of vilifying the women victimized by her sex-predator husband, to her betrayal of brave Americans defending the U.S. special mission in Benghazi (and then lying to their grieving parents' faces about the cause of their deaths) – has been undeniably two-faced, cold, manipulative and obsessed with power. Still, is the whole Nurse Ratched comparison, and all it implies, really fair?
Rest assured that Kupelian thinks he's being totally fair in lashing out at Hillary in this hateful, vindictive way. He rants about how much of a liar Hillary allegedly is, quoting from his own book "The Snapping of the American Mind" in delcaring Hillary (and President Obama) to be "vainglorious" creatures who disregard "any higher standard of truth," and he quotes another author, "famed Christian psychiatrist M. Scott Peck," to portray Hillary as a "malignant" narcissist who is "always phony, manipulative, calculating, blaming, deflecting – always lying," adding: "That's Nurse Ratched. And that's Hillary Clinton."
Which is all rather rich coming from the managing editor of a website that not only is so known for the lies it publishes that it has no credibility -- his boss, Joseph Farah, is weirdly proud of the fact that WND pubishes "misinformation," a.k.a. lies -- but is devoting its efforts to elect an even more vanglorious, malignant narcissist and rampant liar who disregards any higher standard of truth, Donald Trump.
But Kupelian is too deep in his Hillary-hating fantasy world to be concerned about the credibility of his own website, let alone logical consistency. Here's his lengthy description of the hellscape that will purportedly ensue if Hillary is elected president:
If Hillary wins in November, the sheer revulsion of the great American middle class over having to endure Bill and Hillary Clinton back in the White House – this time with the viscerally unlikable Hillary in charge – at such a uniquely crucial time in our history will result in many bad things:

First of all, just having to listen to Hillary will fry the circuitry of many Americans' minds. As I explained earlier, we don't fully comprehend the high stress level involved in being ruled over by someone who is literally lying to us all the time, whose whole life is a pretense, an act, a calculated manipulation – someone who never strikes any familiar chords within our souls of genuine decency, humanity and heartfelt shared values. This alone will create a baseline of constant pain, conflict and anger.

The middle class will likely sink into a state of depression, both economically and emotionally. Suicide will increase, and not just because Hillary is incapable of improving the economy or creating (non-government) jobs, but because public rage will multiply as people realize they have re-elected the delusional Barack Obama in the form of a corrupt, deceitful, power-mad old woman. The urge to chemically relieve pain will dramatically increase, and the current epidemic level of drug addiction – whether the drug source is a doctor or a dealer – will continue to skyrocket. Millions will drop out of politics in disgust, essentially abdicating rule of the country to the progressive left. Checkmate.

As with her husband Bill's presidency, Hillary's rule will encourage immorality, sexual anarchy and abandonment of Judeo-Christian values, but also outright criminality and mental illness. The snapping of the American Mind will shift into overdrive.

Disgust and open rebellion will overtake the U.S. military, leading to a mass exit. Same with the FBI, particularly among the over 100 agents who worked diligently on the investigation of Hillary's private email server and her outrageous disregard for America's national security.

In an age when evil is increasingly portrayed as good, and good as evil; when disordered and immoral behavior is imposed on the rest of society as normal and moral, and dissenting Christians are persecuted and even jailed; Hillary Clinton's presidency will mark the ultimate reversal of values. Whereas once America was blessed with a moral and legendarily honest "father of our country" named George Washington, in Hillary Clinton we'll have an immoral and legendarily dishonest "mother of our country."

Most important is the message that will be transmitted to America's youth, whose values and worldview are still being formed, by having two people with a long criminal history, and who regard themselves as absolutely above the law, occupy the White House.

What will reverberate deep in the minds and souls of the young will be much the same as the toxic message ghetto youth absorb when they observe criminals, drug dealers and pimps in their midst becoming "successful" – getting all the women, hot cars, money, power and fame they want. It's the message of the sociopath predator: There is no law but the jungle. Lying and stealing are no problem, because everyone – including the president – does it. Sexually taking whatever I want from others is fine, too – Bill Clinton proved that. Laws are for other people, and morality is whatever I want it to be. I'm gonna get what's mine, take care of me and my friends. If a crime family like Hillary and Bill can get into the White House and be honored by the whole world, I can ignore the law too and take whatever I can get.

For those more sensitive and deeply moral souls, many will drop out of society and live in their own world. The more troubled of these will lose themselves in drugs, addictions and suicide. America, beneath its civilized, high-tech sheen, will increasingly resemble a mental ward.

But this is the predictable outcome of elevating as a leader someone who pretends to want to take care of others, yet who secretly has contempt for them, indeed whose power is rooted in their very dependency, dysfunction and submission to her. This is the cuckoo's nest run by Nurse Ratched, and America under the rule of Hillary Clinton.
Kupelian doesn't explain how this vision would be different under the amoral businessman he prefers as president. But, again, Kupelian's screed has nothing to do with logic and everything to do with hate.
Posted by Terry K. at 1:17 AM EDT