WND Ratchets Up the Hillary Derangement
Topic: WorldNetDaily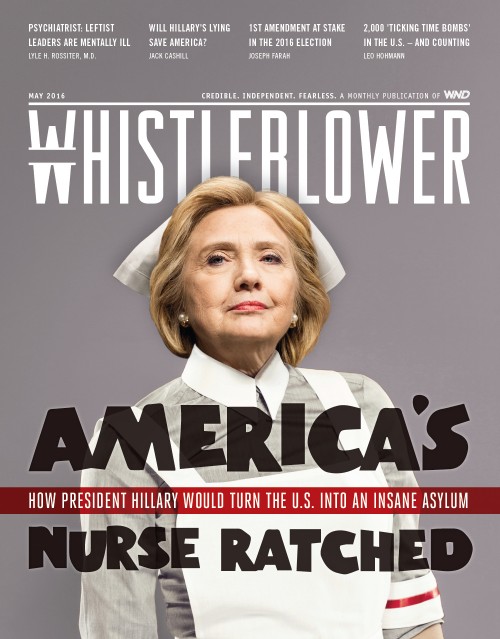 The overarching theme of WorldNetDaily for 2016 will be its jihad against Hillary Clinton. WND takes that up another level with the new issue of its tiny-circulation (WND doesn't release circulation numbers, but if it had any sort of substantial readership, WND would be publicizing the holy heck out of it) Whistleblower magazine with the subtle theme Hillary = Nurse Ratched from "One Flew Over the Cuckoo's Nest." And it totally runs with it:
As movie-goers (and readers of Ken Kesey's novel) well understand, Nurse Ratched is hands-down the craziest and most dangerous person in the whole "Cuckoo's Nest."

Today, as America increasingly resembles a sprawling insane asylum – with 50 million people dependent on mind-altering psychiatric meds and another 25 million taking drugs illegally, suicide at a 30-year high, and addiction to alcohol, drugs, food, gambling and porn now a full-blown national health crisis – voters may soon be electing their very own national Nurse Ratched to run things, in the person of President Hillary Clinton.

That's the premise of May's groundbreaking issue of Whistleblower magazine, which reveals – perhaps for the first time – just how bad for America a Hillary Clinton presidency would actually be. It is titled "AMERICA'S NURSE RATCHED: How President Hillary would turn the U.S. into an insane asylum."

[...]

"Make no mistake," says Whistleblower editor and bestselling author David Kupelian, "today's Democratic Party is untethered to reality: With ISIS crucifying children and burying them alive, with U.S. joblessness through the roof in a disintegrating economy, with wide-open borders and absurdly reckless immigration and refugee policies transforming America in unthinkable ways, the Democrats' most urgent national issue seems to be making sure grown men are allowed to pee in the girls' bathroom."

But what about the woman who may shortly become president?

There are some obvious parallels to Kesey's fictional tyrant nurse, says Kupelian: "From her days of vilifying the women victimized by her sex-predator husband, to her betrayal of brave Americans defending the U.S. special mission in Benghazi – and then lying to their grieving parents' faces about the cause of their deaths – Hillary Clinton has been undeniably two-faced, cold, manipulative and obsessed with power."

Still, is the whole Nurse Ratched comparison, and all it implies, really fair? And if so, what does it tell us about what a Hillary Clinton presidency would mean for America? "AMERICA'S NURSE RATCHED" definitively answers these important questions.
And by "definitively answers these important questions" Kupelian and crew mean "rehash the last 20 hyears of right-wing rants about Hillary."
Even after listing all the old-news attacks and new smears, Kupelian isn't done fearmongering:
"Try a thought experiment," says Kupelian. "Fast-forward through the campaign season and imagine that Hillary Clinton has been elected president. The 'Never-Trump' people got their wish. It's January 2017, Inauguration Day has come and gone, and Nurse Ratched is now the leader of the free world.

[...]

"Can you imagine the effect Hillary Clinton would have on the American psyche as president? Can you anticipate the powerful subliminal message that will be continually communicated to America's young people by having two people so steeped in corruption and crime, Hillary and Bill Clinton, elevated to the White House? After reading 'AMERICA'S NURSE RATCHED,' you will understand on a level you never have before why Hillary cannot become president. This issue of Whistleblower may offer the very best argument for Republican unity."
Or it may just be yet anotyher shoddily reported smear job masquerading as "journalism" -- you know, like pretty much everything else WND does. Which is why nobody believes WND.
Posted by Terry K. at 12:23 AM EDT