WND, CNS Repeat Unverified Claim That Scientist Proves God Exists
Topic: WorldNetDaily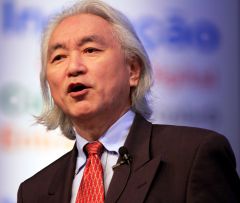 Bob Unruh is very enthusiastic in a June 11 WorldNetDaily article:
A video in which a renowned scientist explains that the "music of strings resonating through 11 dimensional hyperspace … is the mind of God" remains in super viral status years after it first was posted online.

And the scientist, Michio Kaku, who, among other roles, is a well-known commentator for Fox News, has affirmed his theory with a new statement at the Geophilosophical Association of Anthropological and Cultural Studies.

[...]

At the AGEAC site, which disavows affiliation with any particular religion and "rather encourages the study of all faiths and religions of the whole world because it recognizes in all of them the sincere search for truth," he said "primitive semi-radius tachyons" reveal that people live in a "matrix."

He explained tachyons are theoretical particles that allow everything free from the influences of surrounding matter.

"I have concluded that we are in a world made by rules created by an intelligence," he said on the site. "Believe me, everything that we call chance today won't make sense anymore. To me it is clear that we exist in a plan which is governed by rules that were created, shaped by a universal intelligence and not by chance."
Well, not exactly. As religion blogger Richard Bartholomew explains:
I see some difficulties here. First, how does one conduct "tests" on a "hypothetical" particle, and what kind of "tests" were they? Surely Kaku, as a theoretician, spends his days working on mathematics rather than conducting experiments? And what exactly are "primitive semi-radius tachyons"? Googling the phrase brings up other accounts of what Kaku is supposed to have said, but nothing else. Maybe they're related to "sodomized electrons"?

[...]

However, the AGEAC article is itself derivative – the earliest reference I can find to the story was published in May 2011, on a Brazilian website called Pbagora, under the headline "Cientista garante ter encontrado prova que Deus existe". This version includes the detail that his tests had used technology devised "in 2005" (thus discounting the possibility that "tests" might have been a garbled understanding of "hypothetical calculations"). Pbagora cites as its source Scientific American, although no link is given and there doesn't seem to be any article published by Scientific American that fits the bill.

[...]

If the quote is genuine, then, it has travelled from English into Portuguese, then into Spanish, and then back again into English. However, it looks to me more likely that the Portuguese version was either fabricated or is so garbled that it bears no relation to anything Kaku actually said.

But even if the quote is genuine, what would it signify? I'm not a scientist, and like most people I can only comprehend science through popular works – but I know enough to understand that a scientist's grand assertion is not proof of anything. We're told nothing about his reasoning, his data, or – crucially – what his peers have to say on the subject. These silly articles are simply meant to assure us that a Very Intelligent Person has a very good reason to believe in God, even if we can't follow the details.
Further, this blogger suggests that a Spanish-language website found the story to be a hoax.
WND is not the only ConWeb outlet to fall for this very fuzzy, unverified story. A June 17 article by Barbara Hollingsworth repeats the purported claim by Kaku without acknowledging its dubious language-spanning provenance.
Despite the fact that Kaku teaches at the City College of New York and, presumably, not that difficult to get a hold of to verify the story, neither Unruh nor Hollingsworth demonstrated any evidence that they bothered to do so.
Posted by Terry K. at 12:48 AM EDT