WND Serves As Propagandist For Anti-Immigration Protests
Topic: WorldNetDaily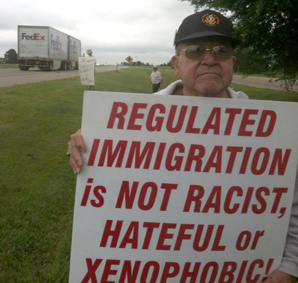 Leo Hohmann writes in a July 18 WorldNetDaily article:
Call it the summer of discontent.

Or simmering anger.

As Central American children continue to illegally pour across the U.S. southern border, thousands of Americans poured onto the streets Friday in 319 cities and towns across the country.
Well, that's an unusually precise accounting of protests. How did Hohmann obtain this number? Did he count them himself? He doesn't say. Indeed, there's no evidence Hohmann did much to "report" his story beyond going to one protest in Oklahoma City and talking to anti-immigration activists.
Hohmann certainly won't report the truth about the protests, as Right Wing Watch found:
The protests were a bust. Local news reports and pictures posted on social media show anemic turnout, from about 40 people in front of the United Nations in New York to just three at a McClellan, Texas, border control station who wondered if they had gotten the wrong address.
That's a far cry from the "thousands" Hohmann claims attended but can't be bothered to substantiate. It appears Hohmann is just regurgitating what the protest organizers told him.
That's not journalism the way actual journalists practice it, but it's close enough for WND.
Posted by Terry K. at 9:48 AM EDT