AIM, Newsmax Also Promoting Discredited Charlatan Joel Gilbert's New Film
Topic: Accuracy in Media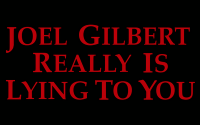 WorldNetDaily isn't the only ConWeb outlet that's strangely eager to promote discredited charlatan Joel Gilbert's new anti-Obama film, "There's No Place Like Utopia."
Cliff Kincaid slobbers over Gilbert's film in a July 17 Accuracy in Media column:
The film is both serious and entertaining. It makes you laugh and almost want to cry, as he skillfully describes what seems like the planned destruction of America.

[...]

Joel Gilbert is a brave filmmaker who is not interested in "debating" the likes of Bill Ayers and Bernardine Dohrn as they demand rehabilitation and acceptance. Gilbert wants to expose them and put them behind bars, where they belong.
Just as Gilbert bought Jerome Corsi's loyalty by putting him in his film, he did something similar to buy Kincaid's promotional skills: Much of his column is devoted to lovingly detailing how the late anti-communist obsessive (and Kincaid buddy) Larry Grathwohl is "one of the stars" of the film.
Gilbert appears not to have done anything to cozy up to Newsmax. Nevertheless, a July 15 Newsmax article by Andrea Billups serves as a fine press release for Gilbert. It's based in part on a WND article by Corsi; Billups doesn't disclose that the author of the article she's cribbing from is also in the film she's promoting.
Needless to say, neither Newsmax nor AIM make mention of the fact that Gilbert's previous anti-Obama film has been utterly discredited. Indeed, no alternative view of Gilbert is presented at all.
Posted by Terry K. at 4:38 PM EDT