WND Hates The Police Almost As Much As Vegas Cop-Killers Did
Topic: WorldNetDaily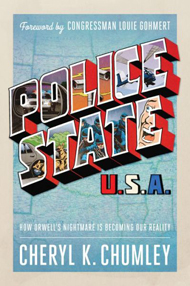 WorldNetDaily didn't show up on Las Vegas cop-killer Jerad Miller's Facebook like list (though a couple of WND's friends did), but it might as well have. After all, both WND and Miller share a disdain for the police.
WND's archive is strewn with recent headlines like these:
Those headlines were partially in service of promoting the new WND-published book "Police State USA," in which Washington Times reporter Cheryl Chumley fearmongers about "the militarization of the police," complete with melodramatic description of the erosion of citizens' rights:
In five years, we will really start to wonder what happened to America. In 10 years, our kids won't know the America of our youth. And in 25 years, we won't recognize America at all.

The Constitution will be a relic, tossed on the same trash heap as the Bible. The notion of God-given rights will be replaced by government control, and privacy rights will have crumbled along with Fourth Amendment guarantees that protect us from warrantless searches of home, possessions and self.

"Police State USA" chronicles how America has arrived at the point of being a de facto police state, and explains what led to an out-of-control government that increasingly ignores the Constitution and exploits 9/11 security fears to justify spying on its citizens. Stunning new surveillance technology now makes it easier to keep tabs on people. The acquisition by police departments of major battlefield equipment emboldens officials to strong-arm those they should be protecting. The failure of the news media to report government violations of citizens' rights sets the stage for this slippery slope.
That attitude doesn't seem too far removed from that of Jerad Miller and his wife, Amanda, who murdered two police officers and another man in Las Vegas on Sunday before killing themselves. TPM reports that a sheriff's deputy said of the Millers: believe they equate government and law enforcement with fascism and those that support with Nazis. ... They believe that law enforcement is the oppressor and they are associated with the Nazi movement."
While there doesn't appear to be any direct link between the Millers and WND, they clearly swam in the same far-right cesspool. And the Millers were all too eager to act out hatred of police that WND merely hinted at.
Posted by Terry K. at 10:01 AM EDT