Terry Jeffrey's Immigration Metaphor Misfire
Topic: CNSNews.com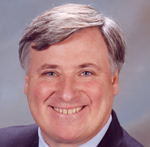 Terry Jeffrey writes in his July 16 CNSNews.com column:
Sam, the wealthiest man in his neighborhood, lives in a big beautiful house with a massive backyard punctuated by a large, deep swimming pool.

While Sam is personally not very fond of children — he supports abortion on demand and believes the government should force all employers to offer female workers free sterilizations — he nonetheless lives in a neighborhood that teems with little ones.

The children are particularly attracted to Sam's beautiful pool — and, on those rare occasions when Sam is actually in his backyard, he frequently finds himself shooing these children away.

Worried relatives have repeatedly warned Sam that he ought to build a fence around his yard — or at least around his pool — to guard against the awful possibility that a neighborhood child might otherwise drown.

But Sam does not want a fence. He objects that it would mar the aesthetics of his yard, and that if some kid really wanted to get into the pool he could climb over the fence.

So, should Sam build one? If he went out one morning and found a boy had drowned in his pool, would he have some culpability for that child's unnecessary death?

The answers are yes and yes.

And, although it is not a perfect analogy, Sam's pool is a little like Uncle Sam's territory near our border with Mexico.

There is no doubt people are tempted to enter U.S. property without the permission of the U.S. government. There is also no doubt this can be a dangerous, even deadly, thing to do.
No, Mr. Jeffrey, your analogy isn't perfect -- heck, it's not even remotely analogous. The act of crossing the border isn't deadly, and America is not an "attractive nuisance" like an unfenced pool where something could go wrong simply by being in the presence of it.
Jeffrey goes on to cite the example of a teenager from Guatemala whose body was found in Texas. But the United States didn't kill him; the trip from Guatemala likely played a factor.
If Jeffrey wants a more perfect analogy, he should have that unfenced pool surrounded by miles of barbed wire, thorns and a few land mines thrown in for good measure.
If Jeffrey thinks America is an unfenced pool in need of a double-layer fence with armed border guards, he clearly doesn't understand anything about immigration. But given his previous attempt at analogy, we already knew that.
Posted by Terry K. at 7:49 PM EDT