CNS Claims Global Warming Has Ended Because Of Cool Weather In U.S.
Topic: CNSNews.com
Can you spot the major science failure in the headline of Penny Starr's July 21 CNSNews.com article, "Global Warming? U.S. Temps Up 0.1 Degrees above 20th Century Average, 2014 Coolest Since 1993"?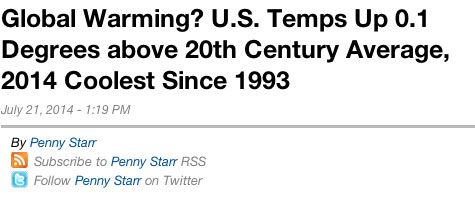 That's right -- suggesting that global warming has been disproved because of a few cool months in the U.S. is utterly dishonest.
Starr herself confuses with her article:
The National Oceanic and Atmospheric Administration's (NOAA) 2014 weather highlights show that from January to June, the temperature in the U.S. has risen by only 0.1 degrees Fahrenheit compared with the average temperature for the 20th century.

NOAA highlights also show that recorded temperatures in the U.S. for the first half of 2014 are the coldest since 1993.
Starr doesn't tell you, however, that globally, last month was the hottest June in 134 years of record-keeping. That would seem to be an important fact to note in an article about climate -- especially since it's in the same NOAA data from which she pulls her U.S. weather data -- but Starr doesn't think so.
What Starr has done is written an article that is technically accurate but so absurdly narrow in focus as to be useless for anything other than political propaganda. Just the way CNS likes it, we presume.
Posted by Terry K. at 6:50 PM EDT